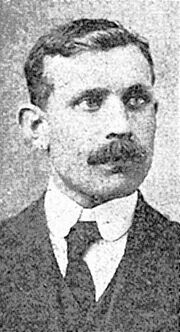 Albert Johan Moss (December 14th, 1882 - July 4th, 1973) was a Third Class passenger of the Titanic. He survived the sinking.
Early Life
Albert was born in Bergen, Norway on December 14th, 1882. He was one of six children of Eduard and Dorothea Moss.
He began his sailor's career at the age of 16.
Aboard Titanic
After surviving a shipwreck off the coast of Lancashire, England, in December 1911, Albert was on his way to Philadelphia, Pennsylvania, to sign as second mate for the Norwegian steamer Norheim. Once on board the Titanic, he shared a third class cabin on E Deck, with two other seamen, Knud Paust Rommetvedt and Hans Martin Monsen Birkeland, also heading for the Norheim.
On the night of April 14th, 1912; Albert and his companions were lying in their bunks when they suddenly felt a bump as if the ship was docking. Having sailed in the North Atlantic for years, he immediately understood what had happened and the trio left their cabin to assess the situation. Once on top, they found pieces of ice laying across the forward well deck. A couple of hours later, he was swept overboard along with Collapsible B, and several others around. He never saw his companions again. After sometime swimming in the chilly water, he reached the same boat lying upside-down in the water, and managed to climb on to it, with 20-30 other men.
A few hours later the men on collapsible B were picked up by some returning lifeboats; Albert got into boat 12, which became the last to reach the Carpathia, eight hours after hitting the iceberg.
Albert would spend two weeks in St. Vincent's Hospital, convalescing, before heading to Philadelphia as planned.
World War I
After several years sailing on the Norheim, Albert became captain of his own ship, the Norwegian steamer Nordkyn. The ship was torpedoed by a German U-boat, off the western coast of Morocco, even though Norway wasn't involved in the war. All crew members survived.
First Retirement
Albert went back home to Bergan and, in 1919, he married his brother Bernhard's daughter, Ingrid Moss. The couple had three children. He took ten years off from sailing, becoming partner in his brother Siduard Moss's book bindery.
Albert went back to sea in 1931, as first officer of a coal ship, during the summer seasons.
World War II
Norway was occupied by Germany in April 1940. Albert continued sailing coal transport, until August 1941, when Allied warships met them in Spitzbergen, Norway. They were transferred to Iceland, then Scotland. Once in Scotland, Albert was appointed his own ship for a second time, the Munin, and took part in Operation Neptune during the Normandy invasion in June 1944. He spent the remainder of the war delivering ammunition and supplies to the troops on shore. None of his crew were harmed during the war.
Later Years
Albert went back home in January 1946, to his wife, their children and grandchildren. He became a pensioner, and spent his summers fishing and taking long rowboat trips.
Albert never liked talking about his experiences on the Titanic and in both World Wars. Things changed in 1962, when Norwegian newspapers reported the passing of Bernt Johannessen, claiming that he was the last Norwegian survivor from the Titanic, which was a mistake. To set things right, Albert agreed to be interviewed three times that year, to various newspapers and radio stations. He told reporters that the screams of the passengers and crew in the water still haunt him even though it was now years later.
After, Albert lived quietly for the remainder of his life by the sea. He passed away at his home in Bergen, Norway, on July 4th, 1973. He was 90.
Albert's grandson, Dag Bertelsen, wrote the book, "Titanic Og To Verdenskriger: Om Albert Moss Og Hans Begivenhetsrike Sjømannsliv", about his grandfather's experiences at sea.