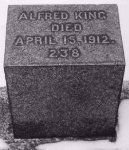 Alfred John Moffett King was one of the lift attendants at the Grand Staircase of the Titanic. He died in the sinking.
Alfred King was born December 3rd, 1893 the son of Alfred King (1872 - 1904) and Christina Arnot Leith (1873 - 1925). He was baptized at St James, Gateshead on December 24th, 1893.
His father was from Hendon, Suffolk and his mother from Sunderland, Durham and they were married in 1891 in Gateshead, going on to produce at least five children: Jessie (b. 1897), Annie (b. 1899), George (b. 1900), Joseph (b. 1903) and Alfred.
On the 1901 census Alfred and his family are living at 94-96 Nile Street, Gateshead and his father is described as a milk seller. His father died in 1904 and his mother was remarried the following year to Frederick Tait (b. 1854 in Durham). Together they would have two children: Frederick (b. 1907), and John William (b. 1910).
On the 1911 census Alfred and his family were now living at 132 Nile Road, Gateshead and Alfred was described as an apprentice engineer's pattern maker. He later worked in the dispatch department of a local paper before deciding to go to sea. The Titanic was his first ship. He also hoped to visit his sister Jessie who was now living in the USA with an aunt.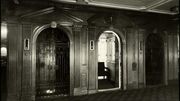 When he signed-on to the Titanic, on April 4th, 1912; Alfred gave his local address as 9 Dyer Road, Southampton. As a first class lift attendant he received monthly wages of £3 15s.
King died in the sinking. His body was recovered by the Mackay-Bennett (#238) and he was buried at Fairview Lawn Cemetery, Halifax, Nova Scotia on May 8th, 1912.
NO. 238. - MALE. - ESTIMATED AGE, 19. - HAIR, BROWN.

CLOTHING - Blue suit; Steward's jacket, marked "Alfred King."

EFFECTS - Silver watch; pipe; 6s. 6d. in purse.

LIFT ATTENDANT.

NAME-ALFRED KING. 132 Mile St., Gateshead-On-Tyne.
Portrayals
In the 1979 film S.O.S. Titanic was portrayed by Nicholas Davies. He is played as a child, not a 19 year old crewmember.