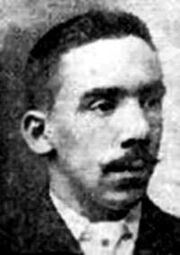 Archibald Leader
was the assistant confectioner of the
Titanic
. He died in the sinking.
He was born in early 1890 in Cardiff, Wales, the son of John Leader (a house decorator) and Nellie (Ellen) Allen. His parents were natives of Bristol and married in Bedminster in 1883.
The family appear to be absent at the time of the 1891 census but reappear in 1901 where they are resident at 123 Penarth Road, Cardiff. Listed also at this time were Archie's siblings: Nellie, Daisy, Winnie, Dora and Linda. By the time the 1911 census had been taken Archie Leader was living as a boarder at 13 Fanshawe Street, Southampton. His profession was listed as baker and confectioner and he was unmarried.
When he signed-on to the Titanic, on 4 April 1912, he was still boarding at 13 Fanshawe Street. His last ship had been the Olympic. As assistant confectioner he received monthly wages of £5 10.
After the ship collided with the iceberg, Chief Baker Joughin ordered him and the 12 other bakers to get provisions to the lifeboats. They took all spare breads from the larder and trooped to the Boat Deck, with each of them carrying 4 loaves of bread.
Leader died in the sinking. His body, if recovered, was never identified.