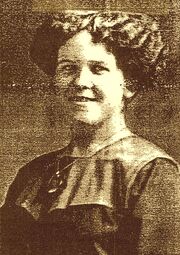 Berta Olivia Nilsson (February 22nd, 1894 - December 27th, 1976) was a Third Class passenger of the Titanic. She survived the sinking.
She was born in Ransbysäter, Lysvik, Värmland, Sweden on February 22nd, 1894.
She was the daughter of Nils Nilsson (b. circa 1867) and Ingeborg Johannesdotter (b. 1866) and she had seven known siblings: Per Johan (b. 1888), Nils Adolf (b. 1890), Maria Karolina (b. 1891), Selma Emelia (b. 1896), Johan Helmer (b. 1899), Hanna Frideborg (b. 1902) and Hilma Sofia (b. 1904).
Berta was engaged to be married to Edvard Larsson-Rondberg (b. 1889), also a native of Lysvik and who worked as a cook. He had emigrated to the USA in 1908 and settled in Missoula, Montana but had returned to Sweden to fetch Berta. The pair boarded the Titanic at Southampton as third class passengers (Berta on ticket number 347066 which cost £7, 15s, 6d).
On the night of the sinking Berta was asleep at the time of the collision. Edvard arrived at her cabin, waking her and telling her that his own cabin in the forward quarters had filled with water. She then dressed in heavy clothing and made her way to the communal steerage areas.
Berta survived the sinking after being placed aboard Collapsible D, the very last lifeboat officially launched from the Titanic at 2:05 am, only 15 minutes before the entire ship sank.  Her fiancé-cousin Edvard, had made his way from the men's 3rd class steerage (bow portion of the ship), which was flooding, to where Berta was sleeping in 3rd class steerage (stern portion of the ship), and then with her to the top deck and then back to the bow end, where Collapisble D was being fitted to the davits. Gunshots were fired:
Later, Woolner and Björnström-Steffansson heard pistol shots. They were fired by Purser Herbert McElroy to prevent a rush on Collapsible C which had just been fitted into the davits previously occupied by Lifeboat 1. The men rushed over and helped the officer pull men out of the boat and loading soon resumed.[1]
Upon arrival in New York the "Women's Relief Committee" gave her $50. On April 26th she passed St Paul, Minnesota on her way Westwards with other Scandinavian survivors Carl Olof Jansson, Oskar Hedman and Anna Sjöblom.
Relatives of Berta's in Sweden, told Berta's daughter (Dorothy) and granddaughter (Jan Olivia) of a letter Berta wrote back to Sweden explaining Edvard was shot and [or] fell to his death. In the book, A Night to Remember, there is a remembrance of 3rd class Finnish passenger Anna Sjöblom, age 18, (Lifeboat 16) making her way to the top of the ship by climbing up a crew maintenance ladder with another female (Finnish or perhaps Swedish?).
Dorothy, Berta's daughter, went to visit her mother living in Chicago in the 1950's and together they watched the TV movie "A Night to Remember", when part way through the show her mother broke down sobbing and finally told her that she had been on the Titanic.  Prior to this, none of Berta's adult children knew that their mother was a Titanic survivor.
After the disaster Berta never dared to travel over the Atlantic ocean again. Following the loss of her fiancé she began a relationship with a fellow Swede by the name of Lars Oskar Persson (b. 27 January 1890) but it is not clear if they were married. They had a son named Leonard (1916-1983). Lars died in 1918 and Bertha was listed on the 1920 census as a widow living in Butte, Silver Bow, Montana. She was married later that year on 16 December in Kalispell, Montana to Hans Aron Christensen (b. 1 May 1890), a carpenter, also Swedish and who had emigrated in 1910 from Göteborg. The couple would have four children of their own: Arthur (b. 1922), Marian (1923-1988, later McCrum), Ruth Loraine (1925-2003, later Gabriel) and Dorothy June (1926-2010, later Cherry). Initially staying in Montana, Berta (now known as Bertha) and her family later moved to Chicago, Illinois in the mid-1920s and remained living in that city.
In later years Berta gave several interviews about her experiences on Titanic. Widowed in 1973, Berta herself later resided at 4205 Fullerton Avenue, Chicago and she died following a stroke on December 27th, 1976, aged 82. She was buried in Mount Olive Cemetery in Chicago.
Special thanks to Linda Windmoeller, sister-in-law of Jan Olivia (Berta's granddaughter)
Ad blocker interference detected!
Wikia is a free-to-use site that makes money from advertising. We have a modified experience for viewers using ad blockers

Wikia is not accessible if you've made further modifications. Remove the custom ad blocker rule(s) and the page will load as expected.