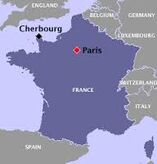 Cherbourg (full name Cherbourg-Octeville) is a city at the North-Eastern part of the France (Cotentin peninsula, to be precise). It's mention is important since it's the Titanic's first station after departing from Southampton.
RMS Titanic Edit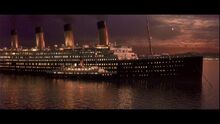 On April 10th, 1912; the RMS Titanic departed on her maiden voyage from Southampton, England, sailing through the English Channel. At 7:00 P.M. about 280 passengers waited to board the ship. However, they didn't reach it directly, but there was a way: the White Star Line's tender liner, SS Nomadic, picked them up and sailed towards the Titanic to deliver the passengers.
General facts
Edit
Other than Titanic Museum in Pigeon Forge, Tennessee, and the Titanic Museum in Belfast, there is also a museum in this city that covers the great ship.
Back in 1912, about 43,000 people. However, in 2012, it decreased to 37,000.
Many famous people boarded Titanic from here. The full list is below. Some of them were:
The full list of people who left the ship at Cherbourg is on the maiden voyage article.
List of passengers who embarked at Cherbourg
Edit
In total, 271 passengers boarded at Cherbourg. No crew members embarked here.
Adāl Naṣr Allāh
Su'ādah Ḥannā Naṣr-Rizq
Charles Natsch
Madeleine Newell
Marjorie Anne Newell
Arthur Webster Newell
Ilyās Nīqūla Yārid
Jamilah Nīqūla Yārid
Mansouer Nofal
Alfred Nourney
Fermina Oliva Y Ocana
Alfred Fernand Omont
Servando José Florentino Oviés Y Rodríguez
Julian Padron Manent
Emili Pallàs I Castelló
Victor Peñasco Y Castellana
Maria Josefa Perezde Soto y Vallejo Peñasco Y Castellana
René Pernot
Michael J. Peter / Joseph
Anna Peter / Joseph
Emilio Ilario Giuseppe Portaluppi
Lily Alexenia Potter
Franz Pulbaum
Uscher Pulner
Bākhūs Rafūl-Būlus
Jonkheer Johan George Reuchlin
George Alexander Lucien Rheims
Emile Phillippe Richard
Sante Righini
Victor Robins
Edith Louise Rosenbaum
George Rosenshine
Martin Rothschild
Elizabeth Jane Anne Rothschild
John Borie Ryerson
Emily Borie Ryerson
Susan Parker Ryerson
Arthur Larned Ryerson
Emily Maria Ryerson
Amin Saad
Emma Sägesser
Elias Samaan
Hanna Elias Samaan
Youssef Samaan
Emma Schabert
Betros Seman
Daher Shedid
Al-Amīr Fāris Shihāb
William Baird Silvey
Alice Gray Silvey
Orsen Sirayanian
James Clinch Smith
Lucian Philip Smith
Mary Eloise Smith
Robert Douglas Spedden
Frederic Oakley Spedden
Margaretta Corning Spedden
William Augustus Spencer
Marie Eugenie Spencer
Ivan Stankovic
Samuel Ward Stanton
Charles Emil Henry Stengel
Annie May Stengel
Martha Stephenson
Albert Ankeny Stewart
As'ad Tannūs
Bashīr Tannūs
Thamīn Tannūs
John Borland Thayer
John Borland jr Thayer
Marian Longstreth Thayer
John Thomas/Tannous
Tannous Thomas/Tannous
Gertrude Maybelle Thorne
Assad Torfa
Gilbert Milligan jr Tucker
Jirjis Yūsuf Tu'Mah
Mariyam Tu'Mah
Assāf Jirjis Tu'Mah Al-Sayqalī
Hinnah Tu'Mah
Manuel Ramirez Uruchurtu
David Vartanian
Annie Moore Ward
Frank Manley Warren
Anna Sophia Warren
Yousif Ahmed Wazli
Ella White
Aaron Willer
Charles Duane Williams
Richard Norris II Williams
Helen Alice Wilson
Antoni Yasbeck
Selini Yazbeck
Marie Grice Young
Gerios Yousseff (Abi Saab)
Gerios Youssiff (Sam'Aan)
Kātrīn Yūsuf
Mapriededer Zakarian
Ortin Zakarian
Philip Zenni
Ad blocker interference detected!
Wikia is a free-to-use site that makes money from advertising. We have a modified experience for viewers using ad blockers

Wikia is not accessible if you've made further modifications. Remove the custom ad blocker rule(s) and the page will load as expected.