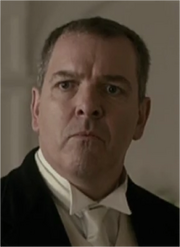 The 
Chief Steward
 is a heavy fictionalized version of Chief First Class steward
Andrew Latimer
 in the
2012 Miniseries
.
Biography
Edit
The Chief Steward had the job of overseeing the stewards. He is mostly seen in the First Class Dining Saloon.
On the first day of Titanic's maiden voyage, he sees Paolo Sandrini, the only Italian steward, wink to Lady Georgiana Grex.. He summons the steward for a warning: flirting with rich passengers like the Mantons is very offensive. [1]
The Chief Steward escapes the sinking Titanic by dressing up like a woman and boarding one of the last lifeboats. Unfortunately for him, that boat was commanded by Fifth Officer Lowe, who emptied the boat in a pontoon to go back for survivors. Lowe removed his shawl and exposed him to everyone in the pontoon, and the Chief Steward quickly moved into another boat.
Historical accuracy
Edit
Historically, this was
Edward Ryan
's story. He escaped in
Lifeboat 14
using a woman's shawl, but Lowe unmasked him and pitched him in
Lifeboat 10
.
[2]
Ad blocker interference detected!
Wikia is a free-to-use site that makes money from advertising. We have a modified experience for viewers using ad blockers

Wikia is not accessible if you've made further modifications. Remove the custom ad blocker rule(s) and the page will load as expected.