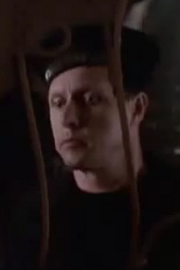 The 
Crewman At Steerage Gate
is character from the
1996 Miniseries Titanic
. He was portrayed by Kim Kondrashoff in an uncredited performance.
He blocked a gate at steerage, trapping passengers downstairs. Jamie drew his attention and asked to open the gate, but the crewman needed orders. Eventually, Jamie convinced him to allow Aase up to the lifeboats, because she was still injured after being raped by Simon. However, once Jamie & Aase were free, the crewman closed the door again and left. Jamie, who couldn't help, promised to come back for the others.
Kondrashoff said in a private message that "that crewman probably drowned very quickly in that freezing water".