On returning to Belfast at about 7 P.M. after the sea trials, the surveyor signed an "Agreement and Account of Voyages and Crew", valid for twelve months, which declared the ship seaworthy. An hour later, Titanic left Belfast again—as it turned out, for the last time—to head to Southampton, a voyage of about 570 nautical miles (660 mi; 1,060 km). After a journey lasting about 28 hours she arrived about midnight on 4 April and was towed to the port's Berth 44, ready for the arrival of her passengers and the remainder of her crew.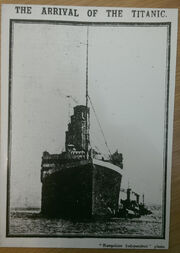 Disembarked in Southampton
Edit
216 people left the ship in Southampton and did not return. Here is the complete list.
Ad blocker interference detected!
Wikia is a free-to-use site that makes money from advertising. We have a modified experience for viewers using ad blockers

Wikia is not accessible if you've made further modifications. Remove the custom ad blocker rule(s) and the page will load as expected.