Edward John Smith was the captain of the RMS Titanic. After the ship struck the iceberg, Smith knew within minutes that the ship was doomed and that people would die. He did all in his power to minimize panic, and as the captain, he went down with his vessel.
Smith was said to be one of the best captains of his time. He was to be knighted after his return voyage, but since he went down with the ship, this did not happen. He left a widow, Eleanor Smith, and one daughter, Helen.
"I cannot imagine any condition which would cause a ship to founder. I cannot conceive of any vital disaster happening to this vessel. Modern shipbuilding has gone beyond that."
    - On the maiden voyage of the Adriatic in New York, 1907
Early Days and Joining White Star Line
Edward John Smith was born in the landlocked town of Hanley, Stoke, England, at 51 Well Street on the January 27th, 1850, he was an only child. His father was a potter, and his mother was Catherine. He was a member of the Etruria Methodist Church, which was built in 1805. The church still stands today looking much like it did when Smith attended it as a boy. As a boy, he owned a fighting cock named Big Red. 
Smith married Sarah Eleanor, daughter of William Pennington, at St. Oswald's Church in Winwick. They would first live at Spar Cottage in Winwick. They had one daughter Helen Melville Smith born in Liverpool, England in 1898.
Per his schoolfellow, William Jones, of Edmund-street, Hanley, Stoke-on-Trent, Smith was "a genial and good schoolfellow; one always ready to give a kind of helping hand in any way to his mates." He was a scholar at Etruria, the school which the great and the good Wedgwood, the potter of worldwide fame, established and maintained in Staffordshire.
"My memory," said Mr. Jones, "brings back many happy days spent with him at school, and also many happy hours before and after school time. There were six of us in those days - six firm friends who stuck together, and Smith was the staunchest of us all. I remember how Vincent Simspon used to call on me first, and how we would call for Johnny Leonard. Then the three of us would knock at Ted Smith's door, and having collected the others we would run down Mill-street and Etruria-road to school." "He was a brave soul as a boy. He was always ready to help and give of his best."
Edward John Smith went to sea at age of thirteen. He became an apprentice on a clipper ship, the Senator Weber, in 1869, an American built sailing vessel owned by A. Gibson & Co of Liverpool. He served as the Fourth Officer on the Celtic in 1880.
Joining the White Star Line in 1886, Smith served aboard the company's major vessels - freighters to Australia, liners to New York - he quickly assumed command. In 1887, he was appointed the captain of the Republic.
As the ships grew in size, so did the importance of Captain Smith. He was the Majestic's captain for nine years starting in 1895, during which period he made two trooping voyages to South Africa during the Boer War. For this service he was awarded the Transport Medal. In addition, he was an honorary commander of the Royal Naval Reserve and, as such, had been granted warrant number 690 allowing him to fly the Blue Ensign on any merchant vessels he commanded. His career would lead him to command 17 more White Star vessels.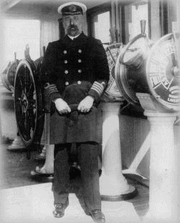 Among these ships was the Adriatic. In 1907 having brought her safely to New York on her maiden voyage, he confidently spoke to the press, "When anyone asks me how I can best describe my experiences in nearly 40 years at sea, I merely say, uneventful. Of course, there have been winter gales, and storms and fog and the like, but in all my experience I have never been in any accident of any sort worth speaking about. I have seen but one vessel in distress in all my years at sea - a brig, the crew of which were taken off in a small boat in charge of my third officer. I never saw a wreck and have never been wrecked, nor was I ever in any predicament that threatened to end in disaster of any sort. You see, I am not very good material for a story."
Little did Captain Smith know that his photograph would one day make the front pages of newspapers around the world.
A friend of Smith's, Dr. Williams, related a conversation with Captain Smith when he commanded the Adriatic. The Captain had said "We do not care anything for the heaviest storms in these big ships. It is fog that we fear. The big icebergs that drift into warmer water melt much more rapidly under water than on the surface, and sometimes a sharp, low reef extending two or three hundred feet beneath the sea is formed. If a vessel should run on one of these reefs half her bottom might be torn away."
According to Williams, he pointed out the inadequacy of the Adriatic's lifeboats and asked Captain Smith what would happen if the Adriatic struck a concealed reef of ice and was badly damaged. "Some of us would go to the bottom with the ship." was the captain's whimsical reply.
Olympic and Titanic
Smith was ranked highly by the White Star Line. Since the Baltic of 1904 he had taken out the company's newest liners on their maiden voyages. After Baltic came Adriatic in 1907, then Olympic in 1911.
Captain Smith was regarded as a "safe Captain" and, for the period, he probably was. Yet he had been in command of the Germanic when on 16 February 1899, she capsized at her New York pier from ice accumulations in her rigging and superstructure. There was a fire aboard the Baltic in 1904 as well as this same ship running aground in 1909. Although, the report of this was in the New York Times, the officers denied that it happened. They had insisted it must be some other ship. In June 1911 while maneuvering the Olympic into her New York Pier, the ship had damaged a tugboat with the thrust from one of the its propellers. It seemed that Captain Smith - along with most contemporary liner captains - had much to learn about the displacement effects of the ship's huge hulk. The incident was therefore written up as a minor scrape, although the tug's owner did sue White Star for $10,000, prompting a counter suit from the company. Ultimately, both cases were dropped because of lack of evidence.
It was not the only mishap with the Olympic. On Wednesday, 20 September 1911, the Olympic set off from Southampton on her fifth voyage, under the command of Captain Smith. As she made her way down the Solent and headed out to pass the east end of the Isle of Wright, she got up to a speed of 18 knots. She was nominally under the direction of George Bowyer, a very experienced Trinity House Pilot. As she turned to starboard to round the Bramble bank, speed was reduced to 11 knots but the wide radius of her turn surprised the commander of the HMS Hawke, a 7,000 ton cruiser, who was unable to take sufficient avoiding action.
The two ships collided, the cruiser's steel and concrete bow ram burying itself deep into the starboard quarter of the great liner. Baggage stowed in the hold of the Olympic spilled out onto the deck of the Hawke.
Fortunately nobody was killed and both ships remained afloat, the Olympic making it back to Southampton on one engine, despite two major watertight compartments being completely flooded. Although the blame was legally placed on the Olympic, and the White Star Line faced with large legal costs as well as the costs of repairing the ship and the losses resulting form the disruption of services, the solace was that the ship had survived a major collision (the Hawke, after all, was designed to sink enemy ships by ramming them) and had remained a float and stable despite serious flooding.
"The commander of the Hawke was entirely to blame," a young officer on board the Olympic had complained, "he was 'showing off' his war ship before a throng of passengers and made a miscalculation." Captain Smith probably smiled enigmatically at the theory advanced by his subordinate, but made no comment as to this view of the mishap. Declared Captain Smith,
"The Olympic is unsinkable, and Titanic will be the same when she is put in commission." He continued, "either of these two vessels could be cut in halves and each half would remain afloat almost indefinitely. The non-sinkable vessel has been reached in these two wonderful craft." "I venture to add," concluded the Captain, "that even the engines and boilers of these vessels were to fall through their bottoms, the vessels would remain afloat."
Smith had also been quoted as saying "I cannot imagine any condition which would cause a ship to founder. I cannot conceive of any vital disaster happening to this vessel. Modern shipbuilding has gone beyond that."
A friend of Captain Smith's, Glen Marston, said that while returning from Europe on the Olympic, he remarked to the Captain on the small number of lifeboats carried by such a large passenger steamer. It was then that the Captain spoke of the life preserving equipment on the Titanic, which was then under construction. Marston quoted Smith as saying he thought the lack of equipment for saving lives was not due to a desire of the steamship owners to save money, but rather because they believed their ships to be safe. Lifeboats were thought to be required only in cases in which passengers were to be landed." It was the Captain's opinion, according to Marston, that enough lifeboats and rafts should be carried to insure safety to every passenger in case of an accident.
Over the years, White Star Line had built up a clientele of passengers who would not dream of crossing the Atlantic on a liner commanded by anyone other than Edward John Smith. In later years, the description of Smith would be an avuncular man with a gray beard and a barrel chest, he was the epitome of an old sea dog. He may have looked fearsome, but in truth he was soft-spoken, gentle and a leader in whom passengers and crews had great confidence. He had a pleasant, quiet voice and a ready smile. A natural leader and a fine seaman, Captain Smith was popular alike with officers and men.
Charles Lightoller, one of his officers, related, "I had been with him many years, off and on, in the mail boats, Majestic, mainly, and it was an education to see him con his own ship up through the intricate channels entering New York at full speed. One particularly bad corner, known as the South-West Spit, used to make us fairly flush with pride as he swung her round, judging his distances to a nicety; she heeling over to the helm with only a matter of feet to spare between each end of the ship and the banks."
"Though I believe he's an awful stickler for discipline he's popular with everybody," wrote Titanic's Sixth Officer James Moody to his sister.
"The crew knew him to be a good, kind-hearted man," a steward shared, "and we looked upon him as a sort of father."
Among the passengers, the veterans of the smoking room swore by him. He enjoyed the confidence alike of millionaires and bishops ('he never took a risk, was the considered opinion of the Bishop of Willesden). Children, too, adored him, and were sure of being noticed by him. He was known affectionately as "E.J." among more than a generation of ocean travelers.
On account of E.J.'s popularity it became a custom for the company to appoint him to the command of each of their finest ships as it came into operation. A maiden voyage without Captain Smith in command was almost unthinkable.
U.S. Congressman, William Alden Smith and his son had made a North Atlantic voyage aboard the Baltic in 1906. The American congressman, six years later, would lead the US Inquiry into the sinking of the Titanic. As a U.S. Congressman, he had been invited to dine at the captain's table, Captain E.J. Smith. The conversation had turned from railway regulation to steamship safety. Subsequently, EJ had invited him to the bridge, where he viewed the mechanism that activated the watertight doors. The captain had then conducted the Congressman and his son on a tour through the ship, explaining everything in detail. William Alden was duly impressed - as impressed as he was later dumbfounded - "EJ was no fool, nor was he "reckless" as some editors would suggest after the Titanic disaster.
In 1912, Smith took command of the RMS Titanic. At that time, he was aged 62.
Although it is accepted from sources that Smith had made plans to retire after the return voyage to Southampton, the Haliafax Morning Chronicle on 9 April said that Smith would remain in charge for a few more years before the White Star Line decided to let him retire. He had earlier took command of Titanic's sister ship, the Olympic and was actually filmed inspecting the vessel. When Titanic left Southampton, she displaced so much water that she caused the laid-up liner New York to break her moorings and swing towards her. Captain Smith's quick action and experience helped to prevent a premature end to the maiden voyage because of the past trouble he was in when the Olympic had a major mishap occurred during a collision with a British warship, HMS Hawke, the year before. During the voyage, Smith had been given several ice warnings from other ships in the Atlantic, telling him that there was a huge ice field in the Titanic's path. He handed one of the warnings to the chairman of White Star, J. Bruce Ismay, who was his employer. He didn't think they were serious. Smith had his own doubts. Dispite the ice warnings, he did not know that the ship was heading for a collision course with an iceberg.
Sinking of the Titanic
When the Titanic hit the berg shortly after 11:40 P.M., Smith was asleep in his cabin. He was woken by the collision and rushed to the bridge where he was told by First Officer William Murdoch that the ship had just collided with an iceberg. Worried, he ordered Fourth Officer Boxhall to go on a quick inspection to see how much damage the ship had reviced. He came back and said he didn't find any serious damage, but right after the carpenter and a postal clerk rushed onto the bridge. "She's taking on water, quickly", the carpenter said. Jago Smith said: "the mail room's flooding". Then Bruce Ismay, managing director of the White Star Line, also arrived on the bridge. "Do you think the ship is seriously damaged?" Captain Smith replied: "I am afraid she is."
Smith then went on inspection himself with the ship's designer, Thomas Andrews. The news Andrews gave was shocking and horrifying. Five of her watertight compartments had been flooded. She was designed to float with her first four compartments flooded but not five. With this amount of underwater damge, Titanic could not stay afloat and she would sink in less than 3 hours. The impending disaster dawned on Captain Smith. He had never been in a situation like this before and his career seemed to have been shattered by the fate of his ship.
It's hard to think what the captain might have been going through at that point as the ship was sinking. It has been said that that Smith became paralyzed by indecision but it also might be possible that he had suffered some sort of a nervous collapse which might have coursed him not to leave the ship when it's final moments came.
When water reached the forecastle, Captain Smith gave the last order though his megaphone: "Abandon Ship! Every man for himself!"
Trimmer James McGann saw him at the final moments in the wheelhouse:
"I was helping to get off a collapsible boat. The last one launched when the water began to break over the bridge on which Captain Smith stood. When the water reached Captain Smith's knees and the last boast was at least 20 feet away from the ship, I was standing beside him. He gave one look all around, his face firm and his lips hard set. He looked as if he was trying to keep back the tears, as he thought of the doomed ship. I felt mightily like crying as I looked at him. Suddenly he shouted: 'Well boys, you've done your duty and done it well. I ask no more of you. I release you. You know the rule of the sea. It's every man for himself now, and God bless you'."
This would be the last sighting of Captain Smith.
Death
Surprisingly little is known about Smith's actions in the last two hours of the ships life. His legendary skills of leadership seem to have left him, he was curiously indecisive and unusually cautious.
He was last seen in the bridge area having given the final order to abandon ship. He appears to have made no attempt to save himself. His body, if recovered, was never identified. 
"Ted Smith passed away just as he would have loved to do. To stand on the bridge of his vessel and go down with her was characteristic of all his actions when we were boys together."
William Jones, his boyhood friend
Post-death
A message from Captain Smith's wife was later posted outside the White Star offices in Southampton. It read: "To my poor fellow sufferers - my heart overflows with grief for you all and is laden with sorrow that you are weighed down with this terrible burden that has been thrust upon us. May God be with us and comfort us all. Yours in sympathy, Eleanor Smith."
Senator Alden Smith paid tribute to the career of Captain Smith, "Captain Smith knew the sea and his clear eye and steady hand had often guided his ship through dangerous paths. For forty years, storms sought in vain to vex him or menace his craft. Each new advancing type of ship built by his company was handed over to him as a reward for faithful services and as evidence of confidence in his skill. Strong of limb, intent of purpose, pure in character, dauntless as a sailor could be, he walked the deck of this majestic structure as master of her keel". Smith added that the Captain's "own willingness to die was the expiating evidence of his fitness to live."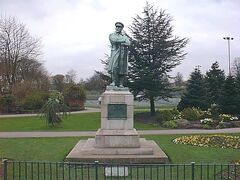 Daniel Allen Butler, described Smith as "Solidly built, slightly above medium height, he was handsome in a patriarchal sort of way. His neatly trimmed white beard, coupled with his clear eyes, gave him a somewhat stern countenance, an impression immediately dispelled by his gentle speaking voice and urbane manners. Respectfully and affectionately known as 'E.J.' by passengers and crew alike, he was a natural leader, radiated a reassuring combination of authority, confidence, and good humor."
Second Officer Lightoller remembered him years after the disater as "the best captain he ever knew."
A big statue of the captain was put up in Lichfield, England (the diocese where he was born). Many important people attended the unveiling of this statue, including relatives of passengers who perished with the captain.
Was Smith responsible for Titanic's sinking?
The popular press expected men to die like heroes in 1912. "After all, Captain Smith had done just that, or had he?" In a strange quirk of history the man directly responsible for the loss of Titanic is remembered as a hero, whilst Joseph Bruce Ismay, who tried to save lives, is labeled a coward.
Many Smith failed the passengers and crew of Titanic because of the fact he failed to heed ice warnings, did not slow the ship when ice was reported directly in his path, and allowed lifeboats to leave the sinking ship partially filled, unnecessarily adding at least 500 names to the list of the dead.
But what organization or individual was ultimately to blame? The British government's Board of Trade allowed Titanic to sail with insufficient lifeboat accommodation. The government simply had not kept abreast of advances in marine engineering and based all life-saving regulations on ships up to 10,000 grt (gross registered tons) which were required to carry 16 lifeboats. Titanic was 46,329 grt. A ship designed to accommodate 3,511 passengers and crew was only required to provide lifeboat accommodation for 962. In fact, White Star provided her with four extra collapsible boats, increasing capacity to 1,178.
It is also believed that had Smith paid attention, all these lifeboats could have been loaded to their stated capacity in time, or even with many more, for the numbers reflected shipyard workers, not women and children. In the flat calm conditions that night, the first boat to leave Titanic's side, with a capacity of 65, contained just 28 people.
Depsite having several faults, Smith was still believed to be one of the best sea captains of his time.
Portrayals
Captain Smith is obviously the most important person of the entire disaster. He is portrayed in every single movie.
In the 1997 Film Titanic, he was portrayed by Bernard Hill.
References