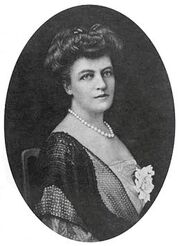 Elanor Widener
was the wife of
George Widener
. She boarded the
Titanic
at
Cherbourg
with her husband, his servant
Edwin Keeping
, her own maid
Amalie Gieger
and her son
Harry Widener
. The couple stayed in
Cabin C-80
, while Harry was in
C-82
.
Mrs Widener and Gieger were helped into Lifeboat 4 after more than an hour's wait by the men. They then stood back to await their fate.
After their arrival in New York, Mrs Widener and Miss Gieger were met by a private train which took them back to Philadelphia.
After losing her husband and son to the sea, Mrs Widener devoted herself to charitable work. A lasting monument to her generosity stands as the Harry Elkins Widener Memorial Library at Harvard for which she made a large donation. Her only stipulations being that no stone be touched as long as the library stands and that each graduate of Harvard pass a swimming test (she felt her son might have been saved had he been able to swim). Both rules stand today although the library has been augmented by new buildings in recent years.
In 1915 Mrs Widener married the geographer and explorer Dr Alexander Hamilton Rice of New York, NY and in the coming years followed him on several expeditions in South America. They also travelled extensively in Europe and India.
Eleanor died in Paris on 13 July 1937.
Portrayals
Elanor Widener is portrayed in the 2012 Miniseries Titanic. She is very supportive to the romance between Harry Widener and Georgiana Grex, daughter of the Earl of Manton.