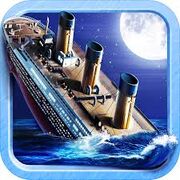 Escape the Titanic
is an app about escaping the RMS
Titanic
when it's sinking after its collision with the iceberg.
Join over 3 million fans who've taken the chance - Do you have the skills to Escape the Titanic before it's too late?
Get ready - there are no instructions; it's just you and your smarts as you face the ultimate test of wits, cunning, and speed in this unique adventure puzzler. No two scenes are alike, so be prepared for anything as you race to escape the world's most famous ocean liner.
Ad blocker interference detected!
Wikia is a free-to-use site that makes money from advertising. We have a modified experience for viewers using ad blockers

Wikia is not accessible if you've made further modifications. Remove the custom ad blocker rule(s) and the page will load as expected.