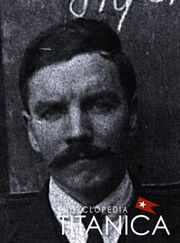 Isaac Hiram Maynard (October 8th, 1880 - January 9th, 1948) was an entrée cook on the RMS Titanic. He survived the sinking.
He was born in Shoreham, Sussex, England on October 8th, 1880. He was the son of Hiram Maynard (1843 - 1910), a master mariner, and Catherine Ann Page (1844 - 1888), Sussex natives who had married around 1864.
Isaac had nine known siblings: James Hiram (b. 1865), William Alfred (b. 1867), Catherine Lucy (b. 1869), Thomas Edward (b. 1871), Frederick George (b. 1874), Albert Ernest (b. 1877), Charles Henry (b. 1879), Sydney (b. 1883) and Florence Ann (b. 1886).
Isaac first appears on the 1881 census and at the time he and his family were living at New Road in St Mary's, Steyning, Sussex. His mother died in 1888 aged 44 and his father was remarried in 1891 to Eliza Alice Lillywhite (b. 1861 in Worthing, Sussex). The 1891 census would show Isaac and his family, his father now described as a sea pilot, living at 2 Adur (?) Terrace in Shoreham. Isaac would later gain two step-siblings: Reginald Harold (b. 1893) and Gertrude Maria Alice (b. 1896). The family would still be at this address by the time of the 1901 census but Isaac was absent and listed elsewhere as a visitor at his married sister Catherine Lucy Hayward's address, 254 Portswood Road, Portswood, Hampshire and he was described as an unmarried seaman.
Isaac was married in Southampton in 1905 to Ethel Louise Gookey (b. 1880 in Southampton, daughter of George Gookey, a house painter). They are listed on the 1911 census living at 31 Earls Road, Southampton and Isaac is described as a ship's cook.
In early 1912 Isaac and Ethel would welcome the first of their five children, Ogilvie Hiram George. In following years they welcomed Iris M. (b. 1914), Rita Rose (1916 - 2001), Mollie (b. 1919) and Robert George (1921 - 2001).
Isaac initially signed on to the Titanic for the delivery trip from Belfast to Southampton. When he signed-on to the Titanic for the second time, on April 4th, 1912; he gave his address as 31 Earls Road, (Southampton). He had transferred from the RMS Olympic. He received monthly wages of £7 10s.
During the sinking Maynard remained on the Titanic during her final throes and managed to pull himself aboard the overturned collapsible B. The Press later dubbed him "Maynard, the steward who took the baby from Captain Smith's arms" following unsubstantiated reports that Smith had delivered a child to the boat before swimming off to his death.
Following the disaster, Isaac returned to England and continued working at sea into the 1920s. His wife Ethel died in 1933 and he was remarried in 1941 to Mary Annie Henry. He and his wife later lived at 296 Portswood Road, Southampton.
Isaac Maynard died in the Borough Hospital, Southampton on January 9th, 1948.