James Paul Moody was the sixth officer of the RMS Titanic and the only junior officer of the ship to die in the disaster.
Early life
James Paul Moody was born in Scarborough, England on August 21st, 1887; the youngest of four children born to John Henry Moody and Evelyn Louis Lammin. Moody's grandfather and namesake, John James Paul Moody, had been a prominent local figure, having served as the town clerk. His father, John, was also well known, holding a position on the town council.
Moody attended the Rosebery House School before joining HMS Conway as a cadet in 1902. His two years on the ship, 1902 and 1903, counted as one years' sea time towards his Board of Trade Second Mate's Certification.
Career
In 1904 he joined the William Thomas line's Boadicea as an apprentice, and endured an horrific, storm-troubled voyage to New York, in which one of his fellow apprentices was driven to suicide.
Moody graduated from the King Edward VII Nautical School in London and passed his Masters Examination there in April 1911. In 1910 Apprentice James Moody also became Sub-Lieutenant James Moody, RNR, when he recieved a commission in the Royal Naval Reserve. He did shore work when he could. The White Star Line thought it was essential that all of their Ship's Officers be in the Royal Naval Reserve as well. It also meant that the line was doing something for Great Britain and recieved other benifits from the British Government.
He was 24-years-old when he was transferred from the Oceanic to the Titanic. His 1912 address was: St. James House, Grimsby, Lincolnshire. His family was also known in Grimsby as one of his ancestors, Charles Bartholemew Moody, was the town's first coroner. At the time of his death, he was living with an uncle who was a solicitor - and whose firm is still in business today.
Titanic
Sub-Lieutenant Moody held the position of Sixth Officer on board RMS Titanic. He was a junior officer and therefore helped the Officers Of the Watch when he was on duty.
He stood the 8 A.M. to 12 P.M. and 8 P.M. to 12 A.M. watches, as well as the first Watch, that of 4 to 5 P.M. Moody was on watch on the bridge when the Titanic struck the iceberg at 11:40 P.M. on Sunday 14th April.
Moody went to launch lifeboats, mostly working on the aft side. After launching Lifeboat 16 on port side, he went to the starboard side to help Murdoch with boats 9, 11, 13 & 15. A well-known incident is the separation of the Becker family. Ruth Becker went back to her cabin to get some extra blankets when Moody threw her three relatives in Lifeboat 11. Ruth casually asked Moody to board the next lifeboat (13), so he lifted her up and threw her in. 
Moody was last seen by the ship's lamp trimmer, Samuel Hemming, on top of the officers' quarters trying to launch Collapsible A just a few minutes before the final sinking. Lightoller also said; "Mr. Moody must have been standing quite close to me at the same time. He was on top of the quarters clearing away the collapsible boat on the starboard side, whilst Mr. Murdoch was working at the falls. If that is so, we were all practically in the water together."
Moody died in the sinking. His body, if recovered, was never identified. Aged 24, he was the only junior officer on the Titanic to die in the sinking.
A monument in Woodland Cemetery, Scarborough, commemorates Moody's sacrifice on the Titanic with the Biblical quote, "Greater love hath no man than this, that a man lay down his life for his friends." (see John 15:13) He is also commemorated by a Blue Heritage Plaque at 17 Granville Rd Scarborough, the house where he was born. Another commemoration is standing by a brass altar set presented by his aunt, Hannah Mountain, to the church of St Augustine of Hippo in Grimsby.
Legacy
Moody's last actions were poignantly recalled by Geoffrey Marcus in The Maiden Voyage .
[Chief Officer] Wilde's efforts to avert panic, maintain order and discipline, and get the last of the boats loaded and lowered to the water were valiantly supported by the youngest of the officers, James Moody. Long before this, the latter should by rights have gone away in one of the boats along with the other junior officers. But the seamen left on board were all too few as it was for the work that had to be done. Moody therefore stayed with the ship to the end and was the means of saving many a life that would otherwise have been lost.
There is a memorial plaque bearing James' name in the Church of St. Martin on the Hill, Scarborough. It bears the verse:
Be Thou Faithful Unto Death and I Will Give to Thee a Crown of Life." There is also an altar set at St. Augustine's Church in Grimsby that is memory of James.
There is an additional monument to James Moody in Woodland cemetery, Scarborough, the existence of which was known only to a few members of the Moody family. The headstone refers to his role in the Titanic disaster, and commemorates Moody's sacrifice with the words
Greater love hath no man than this, that a man lay down his life for his friends.
Portrayals
Sixth Officer Moody is one of the three most important officers of the Titanic, the others being Captain Smith and First Officer Murdoch. The iceberg collision is one of the most important scenes of a Titanic movie, and Moody is the one passing the warning to Murdoch.
A Night to Remember
In the 1958 non-fiction film A Night to Remember, he was portrayed by Michael Bryant. He is seen in (obviously) the iceberg collision scene. After that, he and Second Officer Lightoller go to the seamen and Lightoller orders to prepare the lifeboats.
Captain Smith orders Moody to have Fourth Officer Boxhall launch distress rockets. Smith tries to gain attention from a mystery ship on the horizon. He is last seen trying to launch Collapsible A, along with Second Officer Lightoller, First Officer Murdoch, and a small group of seamen before the bridge goes underwater.
1996 Miniseries Titanic
Moody was strangely absent in the 1996 Miniseries Titanic. His role was taken over by Fourth Officer Boxhall. Boxhall died in episode 2 in Moody's place, even though the real Boxhall survived. Other omitted key characters are Chief Officer Wilde, Third Officer Pitman, and Thomas Andrews.
James Cameron's Titanic
In the 1997 film Titanic, he was portrayed by Edward Fletcher.
He first appeared as the officer admitting steerage passengers Jack Dawson and Fabrizio de Rossi on board the ship only moments before it departed Southampton. He was later seen in the wheelhouse when First Officer Murdoch ordered him, "All ahead full." Moody was also the officer who answered the call from the crow's nest, asking, "What do you see?" Fleet replied, "Iceberg, right ahead!"
After the collision, Moody was ordered to write the time of collision to ship's log. Later, he appeared in the chart room near Murdoch when wireless operator Harold Bride told Captain Smith about the Carpathia.
He is later seen after Caledon Hockley bribes Murdoch for access to a lifeboat. When Cal was furiously going through the Wheelhouse, Moody attempted to stop him only to be pushed to one side by Lovejoy.
Later, he tried to fill Collapsible lifeboat A with help of Murdoch, Chief Officer Wilde and others. He was a witness to Murdoch's suicide. However, unlike Wilde, he did not try to intervene. As the water rushes up on to the last two boats he helped Wilde, who screamed for the crew to cut the falls on Collapsible Lifeboat A.
Moody was last seen clinging to a davit while Collapsible A floated off.
2012 Miniseries Titanic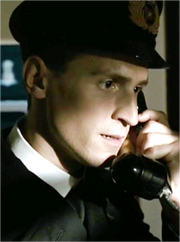 In the 2012 Miniseries, he was portrayed by Jonathan Howard. In Episodes 1 & 4, the iceberg collision scene is his only appearance. In Episode 3, he is featured more. He is seen holding back the Italian waiters from Gatti's restaurant until Bruce Ismay gets to help.
Later on, he ventures down into Third Class to check on the situation involving the passengers, and sees they're being kept down.
Moody reminds Steward Turnbull to let the waiters out of the room they are locked up. He and Turnbull have a fight with Italian fireman Mario Sandrini. Turnbull opens the gate and all Third Class passengers are able to escape; Moody gets trampled when trying to keep order. Meanwhile, Mario is locked up with Gatti's waiters.
Ad blocker interference detected!
Wikia is a free-to-use site that makes money from advertising. We have a modified experience for viewers using ad blockers

Wikia is not accessible if you've made further modifications. Remove the custom ad blocker rule(s) and the page will load as expected.