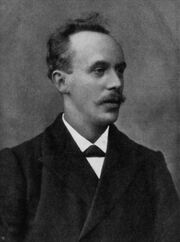 Reverend John Harper (May 29th, 1872 - April 15th, 1912) was a Baptist minister. He died in the sinking.
Early Life
Edit
He was born in the village of Houston, Renfrewshire, Scotland, on May 29th, 1872. He personally embraced his parents' Christian faith at age 13 and began preaching at 18. He supported himself in early adulthood by doing manual labor in a mill until Baptist pastor E.A. Carter of Baptist Pioneer Mission in London heard of his preaching and placed him in ministry work in Govan, Scotland. In 1897, he became the first pastor of Paisley Road Baptist Church in Glasgow, Scotland. Under his care, the church quickly grew from 25 members to over 500 and soon moved to a new location on Plantation Street. In 1922, it moved into its present building on Craigiehall Street and was renamed Harper Memorial Baptist Church in his honor.
He travelled with his daughter Nana Harper and Miss Jessie Leitch from London en route to Chicago. Reverend Harper was on his way to Chicago to begin a series of revival meetings at the Moody Church located on West Chicago and La Salle Avenue. He had been at the church during November, December and January of 1911/12 and his success there resulted in his being recalled to conduct a second series of meetings.
On the evening of April 14th, the Reverend and Miss Leitch were standing on deck admiring the sunset. "it will be beautiful in the morning," remarked Reverend Harper before retiring for the night. After the collision, Harper awakened his daughter, picked her up and wrapped her in a blanket before carrying her up to A deck. There he kissed her goodbye and handed her to a crew member, who put her into Lifeboat 11 with Miss Leitch. Harper stayed behind and jumped into the water as the ship began to sink.
Some who survived said that Harper preached the Gospel to the end (especially Acts 16:31), first aboard the sinking ship and then afterward to those in the freezing water before dying in it himself. His body, if recovered, was never identified.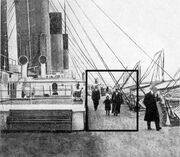 A well known photograph of the
Second Class Promenade
, in which a young girl is seen holding her father's hand, is believed by many to show young Nina Harper and her father.
Ad blocker interference detected!
Wikia is a free-to-use site that makes money from advertising. We have a modified experience for viewers using ad blockers

Wikia is not accessible if you've made further modifications. Remove the custom ad blocker rule(s) and the page will load as expected.