'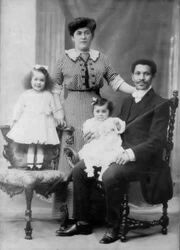 '
Juliette Marie Louise Laroche
was born in Paris on born 20 October 1889, the daughter of widower Monsieur Lafargue, a wine seller of Villejuif, France.
boarded the Titanic at Cherbourg with her husband Joseph Phillipe Lemercier Laroche and daughters Louise and Simonne. Juliette was pregnant at the time of the disaster.
Joseph died in the sinking, but his family were saved, possibly in lifeboat 14.
She died in Paris, France on 10 January 1980.
Ad blocker interference detected!
Wikia is a free-to-use site that makes money from advertising. We have a modified experience for viewers using ad blockers

Wikia is not accessible if you've made further modifications. Remove the custom ad blocker rule(s) and the page will load as expected.