No Official Name
This article has no official name whatsoever. Its current name is tentative.
The Lifeboat 10 seaman was was an extra of the Titanic in the 1997 Film.
He helped prepare Lifeboat 7 for launching when Fourth Officer Boxhall arrived at the scene.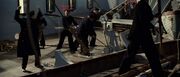 Later, he was the most prominent seaman out of the many at the launching of Lifeboat 10. He stood on the side while Second Officer Lightoller dragged women in the lifeboat, sometimes torn away from their husbands. Fifth Officer Lowe stood next to it.
When the last woman was dragged in, the seaman still hadn't boarded the lifeboat. Thomas Andrews then ordered Lightoller to fill the boats better. The seaman probably helped lowering the boat and boarded another one. It is not sure if he survived, but most seamen of the real Titanic survived.
Ad blocker interference detected!
Wikia is a free-to-use site that makes money from advertising. We have a modified experience for viewers using ad blockers

Wikia is not accessible if you've made further modifications. Remove the custom ad blocker rule(s) and the page will load as expected.