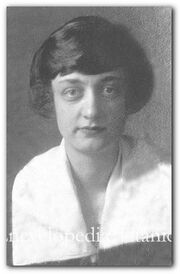 Lucile Polk Carter, 14, was born 20 October 1898, the daughter of
William Ernest
and
Lucile Carter
. She also had a brother
William Thornton Carter
. The family lived at Bryn Mawr, near Philadelphia, Pennsylvania.
The Carter's boarded the Titanic at Southampton as first class passengers. They occupied cabins B-96 and 98.
Lucile, her brother and mother were rescued in Lifeboat 4. Her father escaped in collapsible C.
Lucile later married to Samuel J. Reeves. They had a daughter (the later Mrs Clinton W. Trowbridge) and a son, David Reeves who lived in Wayne, Pennsylvania. At the time of her death she had six grandchildren and was residing in Charleston, South Carolina.
Lucile died at her daughter's home in Summerville, South Carolina on October 19, 1962. She was buried at Valley Forge Memorial Park, Pennsylvania.
Ad blocker interference detected!
Wikia is a free-to-use site that makes money from advertising. We have a modified experience for viewers using ad blockers

Wikia is not accessible if you've made further modifications. Remove the custom ad blocker rule(s) and the page will load as expected.