The
Promenade Deck Steward
was a First Class steward in the
1997 Film Titanic
.
He was seen in the Grand Staircase during the sinking, offering Benjamin Guggenheim a lifebelt. The passenger refused, staying he dressed up in his best and was prepared to go down like a gentleman, but requested a brandy.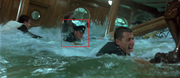 The steward didn't leave the Grand Staircase and died there. He was last seen when the staircase flooded.
Behind the scenes
Edit
He was portrayed by Martin Laing.
Ad blocker interference detected!
Wikia is a free-to-use site that makes money from advertising. We have a modified experience for viewers using ad blockers

Wikia is not accessible if you've made further modifications. Remove the custom ad blocker rule(s) and the page will load as expected.