The RMS Titanic contained two reciprocating four cylinder, triple-expansion, inverted steam engines and one low-pressure Parsons turbine. These powered three propellers. There were 25 double-ended and 4 single-ended Scotch-type boilers fired by 159 coal burning furnaces that made possible a top speed of 23 knots (43 km/h). Only three of the four 63 feet (19 m) tall funnels were functional; the fourth, which served only as a vent, was added to make the ship look more impressive. Titanic could carry a total of 3,547 passengers and crew and, because she carried mail, her name was given the ship prefix Royal Mail Ship (RMS) as well as SS (Steam Ship).
The Titanic was considered a pinnacle of naval architecture and technological achievement, and was thought by The Shipbuilder magazine to be "practically unsinkable."
Titanic had a double-bottom hull, containing 44 tanks for boiler water and ballast to keep the ship safely balanced at sea (later ships also had a double-walled hull). Titanic exceeded the lifeboat standard, with 20 lifeboats (though not enough for all passengers). Titanic was divided into 16 compartments by doors held up, i.e. in the open position, by electro-magnetic latches which could be closed by a switch on the ship's bridge and by a float system installed on the door itself.
Unsurpassed Luxury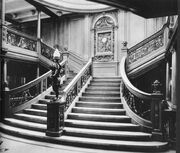 For her time, Titanic was unsurpassed in luxury and opulence. She offered an onboard swimming pool, a gymnasium, a Turkish Bath, libraries for each passenger class, and a squash court. First Class common rooms were adorned with elaborate wood panelling, expensive furniture and other elegant decorations. In addition, the Café Parisien offered superb cuisine for the First Class passengers with a sunlit veranda fitted with trellis decorations.
The ship was technologically advanced for the period. She had an extensive electrical subsystem with steam-powered generators and ship-wide electrical wiring feeding electric lights. She also boasted two wireless Marconi radio sets manned by operators who worked in shifts, allowing constant radio contact and the transmission of many passenger messages.
Even Third Class accommodation and common rooms were considered to be as opulent as those in the First Class sections of many other ships of the day. Titanic had three elevators for the use of first-class passengers and, as an innovation, offered one lift for second-class passengers.
Legendary Band
Some events during the Titanic disaster have had a legendary impact. One of the most famous stories of Titanic is of the band. On 15 April, Titanic's eight-member band, led by Wallace Hartley, had assembled in the first class lounge in an effort to keep passengers calm and upbeat. Later they would move on to the forward half of the boat deck. Band members had played during Sunday worship services the previous morning, and the band continued playing music even when it became apparent the ship was going to sink. None of the band members survived the sinking, and there has been much speculation about what their last song was. Some witnesses said the final song played was the hymn "Nearer, my God, to Thee." However, there are three versions of this song in existence. It is notable however that its most probable the British version was played, (as in the film, A Night To Remember) causing a young Eva Heart to run out of church some months after the sinking, when she recognised the same version of the hymn from that night. Hartley reportedly said to a friend if he was on a sinking ship "Nearer, My God, to Thee" would be one of the songs he would play. Walter Lord's book popularised wireless operator Harold Bride's account that before the ship sank, he heard the song "Autumn" (a hymn similar to the former but contains the maritime line about "mighty waters").[1] It is considered Bride either meant the hymn called "Autumn" or "Songe d'Automne," a popular ragtime song of the time. Others claimed they heard "Roll out the Barrel."
Hartley's body was one of those recovered and identified. Considered a hero, his funeral in England was attended by thousands.
References
↑ "Gospel Song Lyrics" (with hymn "Autumn"),

  Events-in-Music.com, webpage:
  EIMcom-hymn:
  hymn "Autumn" contains lines "Hold me up in mighty waters,
  Keep my eyes on things above..."