Titanic's Reciprocating Engine Room was located between the Turbine Room and Boiler Room 1. It contained the two reciprocating engines, the feedwater heaters, the ship's refrigeration plant, and other auxiliary equipment.
There are no images of the Reciprocating Engine Room, but the 1997 Film Titanic gives a good example of how the room looked like and how it worked. Titanic's top speed was 24 knots which was 27 mph. At the time of the collision, Titanic was sailing at 21 knots, even though popular belief claims she was at top speed.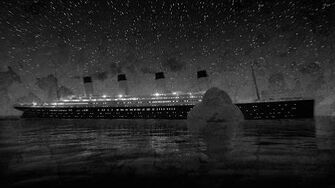 External Links
Edit
Ad blocker interference detected!
Wikia is a free-to-use site that makes money from advertising. We have a modified experience for viewers using ad blockers

Wikia is not accessible if you've made further modifications. Remove the custom ad blocker rule(s) and the page will load as expected.