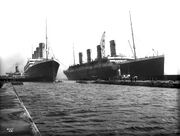 Royal Mail ships were transatlantic liners who carried post over the Atlantic Ocean. Olympic, Titanic, Lusitania and Carpathia were all Royal Mail Ships. An abbreviation for the Royal Mail Ships is RMS, which was (and still is) used by ships at the beginning of their names.
Postal workers on board the ships were hired separately from the rest of the ship's crew, and were responsible for sorting mail en route to America, and then on the journey back to the United Kingdom.
Ad blocker interference detected!
Wikia is a free-to-use site that makes money from advertising. We have a modified experience for viewers using ad blockers

Wikia is not accessible if you've made further modifications. Remove the custom ad blocker rule(s) and the page will load as expected.