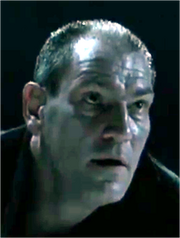 Seaman Davis
was a fictional seaman of the RMS
Titanic
who appeared in the
2012 Miniseries
. He was portrayed by
Dave Legeno
.
Biography
Edit
He was on Collapsible B, where Mario Sandrini also arrived at. Mario was looking for his brother Paolo, and Davis helpes him get on the boat. Mario dives back in the water, only to find a random man. Davis helpes him back on Collapsible B.
Soon after, the boat is filled with survivors. Davis pushes back another swimmer, but Mario recognizes him as the Second Officer and pulles him up.
Lightoller takes charge of the boat and they all struggle to keep it balanced. Jack Thayer also arrives at the boat, but Davis holds him off, saying there's no room for him.
When Mario Sandrini notices one of the men is dead, he is lowered away and Jack can come on board. Mario & Lightoller help him on.
By the time rescue arrives, Davis isn't on the lifeboat anymore. This means he died from hypothermia and slipped off the boat.[1]
Ad blocker interference detected!
Wikia is a free-to-use site that makes money from advertising. We have a modified experience for viewers using ad blockers

Wikia is not accessible if you've made further modifications. Remove the custom ad blocker rule(s) and the page will load as expected.