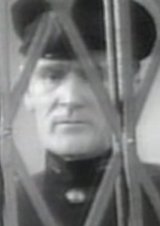 This man was fictional Seaman on RMS
Titanic
in
A Night to Remember
. He was played by
Desmond Llewelyn
.
He is seen with a First Class steward at a gate preventing Patrick Murphy, James Farrell, Mrs. Farrell, Gallagher, Kate, Polish Girl, and Polish Mother from getting into First Class areas to the boat deck. He tells the group that the gates that lead to the boat deck will be open once the order is given. The group then leaves and sees if there is another way to the boat deck.
His character most likely died during the sinking.
Ad blocker interference detected!
Wikia is a free-to-use site that makes money from advertising. We have a modified experience for viewers using ad blockers

Wikia is not accessible if you've made further modifications. Remove the custom ad blocker rule(s) and the page will load as expected.