No Official Name
This article has no official name whatsoever. Its current name is tentative.
An unnamed seaman portrayed by Richard Bradshaw is seen at the scene of Steward 3 in the 1997 Film Titanic. He beats passengers with a fire axe.
Biography
Edit
Steward 3 tries to get women trough a locked Bostwick gate, but men are not allowed to go. An extra opens the gate, but male passengers rush through as well. The seaman uses his axe to beat down escaping passengers and the gate is closed again. Nonetheless, one man still escaped steerage and boarded a lifeboat.
This is when Steward 3 received a well-known quote from Tommy Ryan: "For God's sake man, there are women and children down here! Let us up so we can have a chance!" Tommy then descended the stairs and went to look for another way out.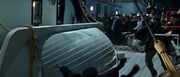 The seaman went up to the lifeboats himself but ended up at one of the two last lifeboats: Collapsible B. He is clearly seen when the people move away from the boat falling from the rooftop.
He failed to board the overturned lifeboat and died in the sinking.
Historical accuracy
Edit
One of the greatest goofs of James Cameron's film is the steerage passengers being locked down at gunpoint or by force in any other form. On the real Titanic, no stewards kept themselves busy with holding down passengers, that's where they had the gates for: two Bostwick gates and several other waist-high barriers. Steerage passengers opened those gates themselves and started wandering through a massive labyrinth of gangways and decks, some of them stumbled upon lifeboats, but many others drowned.
What's even more concerning is the presence of a seaman at the gates, holding an axe for if the passengers ever managed to escape. All seamen should have been on the Boat Deck, launching lifeboats and boarding them, sitting at an oar or at the tiller. Only 10 seamen did not escape the Titanic, and it would have been a gross ignoring of duties if they were at the steerage passengers instead of on deck.
Ad blocker interference detected!
Wikia is a free-to-use site that makes money from advertising. We have a modified experience for viewers using ad blockers

Wikia is not accessible if you've made further modifications. Remove the custom ad blocker rule(s) and the page will load as expected.