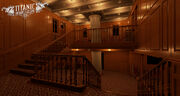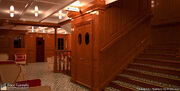 The
Second Class Staircase
is the main access staircase for Second Class passengers aboard the RMS
Titanic
. It was all panelled in wood, with white and green linoleum tiles on the floor. There were a couple of wicker chairs on each landing.
The staircase had no exit on A Deck, as that was an exclusively First Class deck.
Various locations could be accessed from the staircase such as the Second Class Promenade, the Poop Deck, the Second Class Library, the Second Class Dining Room, and the Second Class cabins on F Deck.