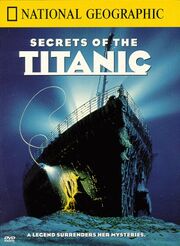 Secrets of the Titanic
is a film on National Geographic about submersibles discovering secrets in the
wreck
of the RMS
Titanic
.
Discover the REAL story behind the biggest Hollywood movie of all time! After years of painstaking research, Dr. Robert Ballard finally located the ill-fated RMS Titanic, nearly two-and-one-half miles down in the icy Atlantic. Now, along with Ballard and his team, be among the first humans to see the Titanic since its sinking, as on-location footage presents this historic expedition as it actually happened!
Ad blocker interference detected!
Wikia is a free-to-use site that makes money from advertising. We have a modified experience for viewers using ad blockers

Wikia is not accessible if you've made further modifications. Remove the custom ad blocker rule(s) and the page will load as expected.