No Official Name
This article has no official name whatsoever. Its current name is tentative.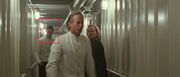 The
Steerage Steward 2
was a recurring extra in the
1997 Film Titanic
.
First, he was seen with the Scotland Road Steward, who was waking up steerage passengers and constantly shouting "put your lifebelts on!".
Then, he was seen with Steward 2, complaining to some steerage passengers who had blocked the gangway with their luggage, while Steward 2 handed out lifebelts. Tommy Ryan took one and put it on. Nearby, Steward 3 was already at a Bostwick gate, preventing the passengers from going to the lifeboats.
Behind the scenes
Edit
Archive footage from James Cameron's Titanic Explorer shows that this steward was acting on Steward 2's direct orders.
Ad blocker interference detected!
Wikia is a free-to-use site that makes money from advertising. We have a modified experience for viewers using ad blockers

Wikia is not accessible if you've made further modifications. Remove the custom ad blocker rule(s) and the page will load as expected.