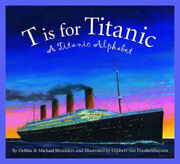 T is for Titanic: A Titanic Alphabet
is an alphabet book about different things on the RMS
Titanic
listed in alphabetical order. An alphabet book from Sleeping Bear Alphabets.
In T is for Titanic, husband-and-wife writing team Michael and Debbie Shoulders sift through the stories, documents, and artifacts surronding the famous ship, giving a you-are-there view to one of the greatest disaster stories.
Ad blocker interference detected!
Wikia is a free-to-use site that makes money from advertising. We have a modified experience for viewers using ad blockers

Wikia is not accessible if you've made further modifications. Remove the custom ad blocker rule(s) and the page will load as expected.