Thomas Walter King (May 9th, 1869 - April 15th, 1912) was the Master-at-Arms of the Titanic. He died in the sinking, the other Master-at-Arms survived.
King was the son of Daniel John King (1844-1898) and Harriet Margaret Topps (1844-1921).
His parents, both natives of Yarmouth, had married there in 1867 and went on to have at least five children: Daniel Thomas (b. 1867), William (b. 1873), Frederick Albert (b. 1874), Gertrude Alice (b. 1877), May (b. 1883) and Thomas.
On the 1871 census Thomas, his brother Daniel and mother are listed as visitors at 8 Market Road, Great Yarmouth, the home of his grandparents Thomas and Emma Maria Topps. His father Daniel, a boat builder, is listed at a different address in Nelson, Norwich. On the 1881 census Thomas is again listed as a visitor at his grandparents' home, now at 60 Market Road.
Thomas was married in Medway, Kent in 1889 to Rose White (b. 1863 in New Brompton, Kent). On the 1891 census Thomas' family are listed living at 23 Military Road, Chatham, Kent. His father is now listed as a fisherman on top of his shipwright duties and his mother, several siblings and his wife Rose are now running a fish shop.
Thomas and Rose went on to have five children: Walter Thomas (b. June 4, 1893), Thomas George (b. 1894), Rose Caroline (b. June 23, 1898), Helen Margaret (b. 1900) and Dorothy (b. 1909).
On the 1901 census Thomas is absent, but his wife and four of his children are listed as living at 6 Middle Street, Gillingham, Kent. His wife is still described as a fishmonger.
On the 1911 census Thomas is at home (30 Wolsey Avenue, East Ham, Essex) and he is now described as a Naval Pensioner Bank Corter. His wife died not long after this census was taken.
Thomas signed on to the Titanic on April 6th, 1912 as one of two masters-at-arms. He gave his address as 23 Middle Market Road, Great Yarmouth, Norfolk (the address of his mother). His previous ship had been the Olympic and as master-at-arms his monthly wages were £5, 10s.
Thomas was lost in the disaster. His body, if recovered, was never identified.
His son Walter Thomas was later married and died in Redbridge, London in 1976. His son Thomas is believed to have died in London in the early 1970s. His daughter Rose was married in 1927 to Edward Le Sage and had two children before she died in Bromley, Kent in 1977. What became of his other two daughters is not clear
Portrayals
Edit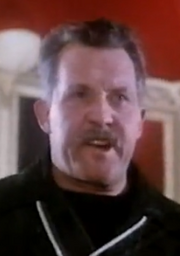 In the 1979 film
S.O.S. Titanic
was portrayed by
Norman Rossington
.
In The 1997 Film Titanic he was portrayed by Ron Donachie.
Ad blocker interference detected!
Wikia is a free-to-use site that makes money from advertising. We have a modified experience for viewers using ad blockers

Wikia is not accessible if you've made further modifications. Remove the custom ad blocker rule(s) and the page will load as expected.