Pre-1911
1898 Morgan Robertson writes his novel Futility, or the Wreck of the Titan.
1907, summer months White Star Line's managing director J. Bruce Ismay wants to build two new giant steamers to outstand the Cunard Line in case of luxury and size. He orders Harland and Wolff chairman William Pirrie, head of Harland and Wolff's design department Thomas Andrews and general manager Alexander Carlisle to design the new giants. They regularly send the plans to Ismay for suggestions and approval.
July 29th, 1908 Ismay is shown the design of the new Olympic-Class steamers and he agrees.
July 31st, 1908 The contract is signed and the construction of the Olympic and Titanic can begin.
March 31st, 1909 Titanic's keel is laid, funded by the American J.P. Morgan and his International Mercantile Marine Co.
1911
May 31st Titanic is lowered into the water.
July Titanic is annonced to depart on her maiden voyage on March 20th, 1912.
September 20th The Olympic collides with cruiser Hawke and is badly damaged. Workmen building the Titanic need to move to the Olympic repairs, delaying the Titanic's departure.
October 11th Titanic is annonced to depart on her maiden voyage on April 10th, 1912.
1912
January The lifeboats are installed on board the ship.
February 3rd Titanic docks in Belfast.
March The deck crew is collected.
March 25th The lifeboats are tested. All 16 wooden boats are lowered until a few ft above the waterline, a few are lowered into the water.
March 31st Titanic is completed.
April 1st Scheduled sea trials are cancelled due to strong winds.
April 2nd, 6 A.M. Titanic is pulled into Belfast Lough for sea trials.
April 2nd, 8 P.M. Departure to Southampton.
April 3rd, just before midnight Arrival in Southampton.
April 4th just after midnight Docking in Southampton.
April 5th Ship is pavorised for Good Friday.
Wednesday, April 10th
7:30 A.M. Captain Smith embarks.
8:00 A.M. Crew embarks.
8:30 A.M. Very short lifeboat drill. Deck crew musters on the boat deck for a Board of Trade inspection. Two lifeboats (13 and 15) are manned and lowered on the starboard side, each with an officer, a quartermaster, and 6 Able Seamen. Fifth Officer Lowe is put in charge of one, and Sixth Officer Moody is in charge of the other.
9:30 A.M.-10 A.M. Second- and third class passengers embark.
11:30 A.M. First class passengers embark.
Shortly after noon. The Titanic departs Southampton's berth 44 when the much smaller SS New York almost collides with the Titanic. Titanic's maiden voyage is delayed for an hour less than five minutes after it started.
1 P.M. Titanic resumes her maiden voyage. She sails to the river Solent, then to the Nab light vessel to drop off the pilot. Finally, Titanic is on her way to Cherbourg.
4 P.M. In Cherbourg, the passengers arrive at the pier, where the delay is announced.
6:35 P.M. Arrival at Cherbourg. Average speed: 20.2 knots. Sun goes down 15 minutes after.
8:10 P.M. Departure from Cherbourg, sailing down the English Channel heading towards the South coast of Ireland.
Thursday, April 11th
Captain Smith tests steerability.
11:30 A.M. Arrival in Queenstown (Cobh), South of Ireland. Average speed from Cherbourg: 20.7 knots.
1:30 P.M. The ship departs Queenstown.
1:55 P.M. Titanic takes departure off Daunt's Rock light vessel located at 51° 43'N, 8° 16'W outside Queenstown harbour. 'All ahead full' is ordered, and the ship works up to 20.7 knots, with twenty out of twenty-four double-ended boilers connected up. Her heading is about S45°W True to make a point south of the Old Head of Kinsale.
Friday, April 12th
The weather is clear, the sea's calm.
approx. 8:00 A.M. Ship running at 21.2 knots.  Additional boiler lighted in boiler room 2. 
12 P.M. The officers collect on the bridge to calculate position using sextants.
5:46 P.M.
Wireless message from
La Touraine
to
Titanic
:
'To Capt. Titanic. My position 7p.m. GMT lat. 49.28 long. 26.28 W . dense fog since this night crossed thick ice-field lat. 44.58 long. 50.40 "Paris" saw another ice-field and two icebergs lat. 45.20 long. 45.09 Paris saw a derelict lat. 40.56 long. 68.38 Paris please give me your position best regards and bon voyage. Caussin'
6:21 P.M.
Titanic
sends a wireless answer to
La Touraine
:
'To Capt. La Touraine, Thanks for your message and information my position. 7p.m. GMT Lat. 49.45; long. 23.38. W . Greenwich; had fine weather; compliments. – Smith'
approx. 7:00 P.M. Additional boiler connected up in boiler room 2. Ship now running with 20-one double-ended boilers on line.
Saturday, April 13th
12 P.M. The officers collect on the bridge to calculate position using sextants.
1:30 P.M. As Titanic approaches the mid-Atlantic, Bruce Ismay seems determined to "beat the Olympic and get in New York on Tuesday".
10:30 P.M. The Rappahannock suffered damage in a massive ice field. It sends out a warning to all ships.
11 P.M. Titanic's wireless transmitter starts to give trouble as a short develops in the secondary winding of a transformer. Bride is called out of bed to help Phillips troubleshoot and repair the set. The wireless system cannot send or receive messages in the mean time, and they start piling up.
Sunday, April 14th
Midnight - Noon
5 A.M. The wireless system's finally working again. Private messages have been piling up and desperately need to be sent.
8:00 A.M. Three remaining double-ended boilers lit up in Boiler Room 2.
9:12 A.M.
Cunard liner
Caronia
sends a message to
Titanic
:
'Captain, Titanic.  West-bound steamers report bergs, growlers, and field ice in 42° N., from 49 to 51 W .  April 12. Compliments. Barr.'
The message is brought to the bridge.
10:28 A.M.
Titanic
replies to
Caronia
:
'Thanks for message and information. Have had variable weather throughout – Smith.'
10:30 A.M. Weekly Church service in First Class Dining Room conducted by Captain Smith.
11 A.M. An ice warning from the Leyland Line cargo steamer SS Californian is intercepted.
11:47 A.M.
Dutch liner
Noordam
sends to
Titanic
:
'Captain SS Titanic. Congratulations on new command. Had moderate westerly winds, fair weather, no fog. Much ice reported in lat. 42° 24' to 42° 45' [N] and long. 49° 50' to 50° 20' [W]. Compliments. Krol.'
The ice is in much the same position as noted by Caronia.
Noon - 11 P.M.
12:32 P.M.
Caronia
hears
Titanic
reply to
Noordam
:
'Captain Noordam. Many thanks. Had moderate variable weather throughout. Compliments. Smith.'
Caronia passes the message to Noordam who didn't recieve it.
12:45 A.M. Smith shows the Caronia ice message to Second Officer Lightoller.
1:49 P.M.
Amerika
sends to
Titanic
:
'To the steamer Titanic M.S.G. via Cape Race to the Hydrographic Office, Washington. D S Amerika passed two large icebergs 41 deg. 27 min. N., 50 deg. 8 min. W ., on the 14th April.- Knuth.'
The bergs are in the same area as the Noordam and the Caronia. The message never reaches the bridge.
1:54 P.M.
White Star Liner
Baltic
sends a message to
Titanic
:
'Captain Smith, Titanic. Have had moderate variable winds and clear fine weather since leaving. Greek steamer Athenai reports passing icebergs and large quantities of field ice today in lat. 41º 51' N., long. 49º 52 'W . Last night we spoke German oil-tank steamer Deutschland, Stettin (sic) to Philadelphia, not under control, short of coal, lat. 40° 42' N. long. 55° 11' W . Wishes to be reported to New York and other steamers. Wish you and Titanic all success. - Commander."
Bride passes the message to Captain Smith. Smith later hands it over to Bruce Ismay, who puts it in his pocket to brag about it. Later, Smith will ask it back.
2:57 P.M.
Titanic
replies to
Baltic
:
'Thanks for your message and good wishes; had fine weather since leaving. - Smith.'
5:50 P.M. Titanic reaches the "corner", a navigational reference point at 42 degrees N, 47 degrees, where Capt. Smith delays the turn to New York, probably due to earlier ice warnings, and makes the corner 50 minutes later and 16 miles farther southwest.
7 P.M. The double-ended boilers that were lit in the morning in Boiler Room 2 are now put on line. Temperature 43°F and dropping.
7:12 P.M. Carpathia exchanges Time Rushes with Titanic and receives one passenger message from Titanic.
7:15 P.M. Murdoch orders lamp trimmer Samuel Hemming: "Hemming, when you go forward see the forescuttle hatch closed, as we are in the vicinity of ice, and there is a glow coming from that, and I want everything dark before the bridge." Murdoch wants Hemming to close #2 hatch on the Forward Well Deck, which's light is blocking the lookout's view.
7:22 P.M. Titanic and Californian exchange contact information. From the PV of the Californian: '5.20p.m. New York time, exchanged TRs M.G.Y. nil.'
7:30 P.M. Californian sends another ice warning, area 42°3'N 49°9'W. Bride sends the message to Lightoller on the bridge. Temperature 39°F and dropping.
7:32 P.M. Signal exchanged between Carpathia and Titanic.
7:37 P.M.
Titanic
hears
Californian
call
Antillian
:
'To Captain "Antillian", 6.30p.m. Apparent Time, Ship; lat. 42º 3' N., long. 49º 9' W . Three large bergs five miles to southward of us. Regards. Lord'
8:55 P.M. Captain Smith leaves a dinner party to join Lightoller on the bridge. They talk about weather and seeing conditions.
9 P.M. Temperature 34°F and dropping.
9:25 P.M. Captain Smith says to Lightoller: "If it becomes at all doubtful let me know at once; I will be just inside." Capt. Smith leaves the bridge to go inside to his quarters to retire for the night. 
9:30 P.M. Lightoller orders quartermaster Hichens to warn carpenter Hutchinson and engine crew to watch the fresh water tanks which might freeze. He also orders Moody to warn the lookouts to watch for ice, particularly small ice and growlers.
9:32 P.M. Titanic forwards the Amerika ice warning to Cape Race.
9:52 P.M.
The
Mesaba
sends an ice warning to
Titanic
and all east-bound ships:
'Ice report in latitude 42 N. to 41° 25' N., longitude 49 W . to longitude 50° 30' W . Saw much heavy pack ice, and great number large icebergs. Also field ice. Weather good, clear.'
Phillips is still drowning in the private messages and can't send it to the bridge.
10:00 P.M. Titanic is approaching a field of ice and bergs several miles wide. Lookouts Frederick Fleet and Reginald Lee begin their two-hour shift. Temperature 32°F and still dropping. First Officer Murdoch takes watch from Lightoller.
10:30 P.M. Temperature 30°F and stable.
11 P.M.
11:07 PM.
The
Californian
sends another ice warning to the
Titanic
:
'MGY this is MWL. We are stopped and surrounded by ice.
Phillips, still overworked by the piled up private messages, blocks it off, sending:
DDD means: "Keep out!"
11:35 P.M. The Californian's wireless room is shut down by the operator. Now the ship can't communicate with other ships, not even with those in danger.
11:39 P.M.
Lookout
Frederick Fleet
spots a black object in their path. He rings the warning bell three times. Moody takes the telephone and receives the famous words: "Iceberg, right ahead!"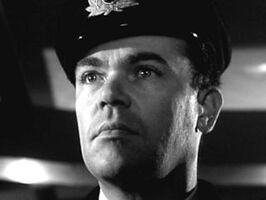 11.40 P.M. Titanic collides with the iceberg, scraping its side under the water line for 75 metres. Fourth Officer Boxhall is abreast captain's quarters walking toward bridge. Quartermaster Olliver steps onto bridge and sees Murdoch at the switch for the watertight doors. He also sees the peak of the iceberg pass the bridge and hears Murdoch call 'Hard-a-port'. Boxhall steps onto bridge in time to see Murdoch still about the switch. Leading Fireman Barrett sees water pouring in 2 feet above the stokehold plates in Boiler Room 6, No.10 stokehold, and jumps through the watertight door into Boiler Room 5 with Second Engineer Hesketh just seconds before it closes. He then notices water coming into the empty starboard side forward bunker of Boiler Room 5. Coal falls all around trimmer George Cavell in the aft bunker of Boiler Room 4, and immediately he starts to dig himself out. 
11:41 P.M. Smith comes through the wheelhouse onto the bridge and asks Murdoch 'What have we struck?' Murdoch replies, 'An iceberg, Sir.' Smith tells him to close the watertight doors. Murdoch says, 'They are already closed, Sir.' Boxhall, Murdoch and Smith step out briefly onto the starboard bridge wing to look for the berg as the ship's head is now swinging to starboard with the tiller hard over to port. 
11:42 P.M. Boxhall drops down to inspect forward passenger spaces. Lightoller, still in his quarter, notices that the ship's engines have stopped and decides to get out of his cabin to investigate. Passenger Lawrence Beesley notices engines have stopped and decides to go up the Second Class Staircase to the Boat Deck to investigate. Greaser Thomas Ranger notices changeover valves in turbine room had come up indicating the turbine engine had stopped. Seaman Scarrott sees the iceberg off the starboard quarter as ship's stern is pulling away as the ship is seen turning to starboard. Trimmer Dillon down in the engine room notices that the ship's engines had stopped and then soon started to reverse. Hemming hears a hissing sound as air escapes from forepeak tank. On the Californian, Third Officer Groves drops down to talk to Captain Lord about an approaching 'passenger steamer coming up on us' from abaft their starboard beam.
11:43 P.M. After seeing Smith put the engine telegraphs to 'stop' and then what appeared to be 'half speed ahead', Quartermaster Olliver was told to go down and find the carpenter and tell him 'to go and take the draft of the water.' Dillon sees the ship's engines start to go ahead slowly. Passenger Henry Stengel notices that the ship's engines appear to be moving again, but was not sure why.
11:45 P.M. Fireman Shiers, having seen the iceberg off the starboard quarter disappearing into the night, now notices the ship was still moving but not by much. Sees ice on the well deck. Lightoller sees Murdoch looking out on port bridge wing, and also notices that the ship was moving only 4–6 knots through the water. He then decides to cross to the other side where he sees Smith looking out on the starboard bridge wing. Hemming discovers peak tank flooding fast from air hissing out of vent pipe, but soon finds out that the forepeak above tank was dry. Boatswain's Mate Haines: 'Just as I got there the chief officer, Mr Wilde, had gotten there, and the lamp trimmer was there, Mr Hemming.  We said the forepeak tank was filling; the air was coming out and the water was coming in.' Many of the crew see ice on the forward well deck after coming up from below including Leading Fireman Hendrickson who, like Shiers, said he got a glimpse of the iceberg. Lightoller meets Pitman while returning to his cabin.
11:46 P.M. Engines put on 'stop' for the last time after ship moved further away from the iceberg which had disappeared off the starboard quarter. Ismay finds Smith on bridge, asks him what happened, and is told that the ship struck ice and may be damaged seriously.
11:47 P.M. Virginian standing by as 'Cape Race working continuously with Titanic.' Last signal exchanged between Carpathia and Titanic prior to distress message going out. Phillips did not know what happened to Titanic at this point in time other than some mishap took place. Bride was to later tell Senator Smith 'that he [Phillips] thought she had got damaged in some way and that he expected that we should have to go back to Harland & Wolff's.' Hendrickson decides the collision was nothing serious and goes back down to his quarters to turn in again. Second Engineer Hesketh tells everyone to return to their stations, and Barrett and Shepherd climb up the escape to go back to Boiler Room 6. 
11:50 P.M. The water is already 14-feet above the keel in the first five compartments. Able Seaman Buley hears water entering hold 1 and sees tarp ballooning over hatch. Boatswain's Mate Haines sees tarp ballooning over hatch in hold 1, and goes to inform Chief Officer Wilde. Leading Fireman Hendrickson told about water coming in at bottom of firemen's tunnel after returning to his quarters on G Deck, sees water coming in from starboard side looking down from G deck, and decides to go to the engine room to tell the engineers. Barrett sees water about 8ft over the stokehold plates in Boiler Room 6, and returns to Boiler Room 5 with Shepherd. Poingdestre returns to the mess room where the carpenter tells him that there is 7ft of water in hold 1. Hichens notices an initial 5° list to starboard. Boxhall returns from his inspection forward, reports no damage seen, ordered to find the carpenter to sound the ship forward, and meets the carpenter coming up the ladder from A deck on his way down.  After carpenter reported to Smith that holds 1, 2 and 3, were flooding, Smith decides to go below to find Chief Engineer Bell and/or meet up with Thomas Andrews. Andrews is seen coming through first class saloon, then down pantry stairs to E deck, and turn aft towards engine room by Saloon Watchman James Johnstone. 
Monday, April 15th
12 A.M.
12:00 A.M. Thomas Andrews makes his report to Captain Smith shortly after midnight. "Titanic will founder."
12:05 A.M. Smith gives the order to prepare the lifeboats, Second Officer Lightoller is in command of the port side, First Officer Murdoch in charge of the starboard side, along with Fifth Officer Harold Lowe and Sixth Officer James Moody helping where ever they could, the order to prepare the lifeboats was overseen by Chief Officer Henry Wilde. Water reaches steerage rooms on G-deck.
12:15 A.M. Captain Smith tells the wireless operators to send the distress call C.Q.D. from MGY (Titanic) and finally the new distress call S.O.S. The Titanic band begins to play. The squash court gets wet. At about the same time, several passengers and crew see the lights of another ship, perhaps as close as 6 miles away (This we now know was the Californian).
12:17 A.M. Carpathia receives distress message. C.Q.D. Responses also will come from the Ypiranga, Frankfurt, Baltic, Caronia, Prinz Friedrich Wilhelm, SS Mount Temple and Titanic's sister ship, RMS Olympic, later on until 2:05 a.m.
12:20 A.M. Water reaches into steerage cabins on the forward F-deck. All passengers are still on the ship, some not noticing the trouble that is happening.
12:30 A.M. The water reaches into the crew's cabins, on E-deck in front. The flooding of E Deck is a massive problem, since the water can now pass Scotland Road with no bulkhead or even a door to hold it back.
12:40 A.M. The first lifeboat, No. 7, is lowered onder supervision of Murdoch, Pitman & Ismay. There are 28 people on board, capacity 65.
12:43 A.M. Lifeboat 5 is lowered. Lowe loses his temper with Ismay.
12:45 A.M. Fourth Officer Joseph Boxhall fires the first of eight distress rockets and repeats the act every five minutes. The bow starts slanting forward more clearly now, and lays already very deep now.
12:55 A.M. Lifeboat No. 3 with 32 people aboard, is lowered.
1 A.M.
1:00 A.M. Second Officer Lightoller lowers lifeboat No. 8 with 28 people aboard. The watertight bulkhead between Boiler rooms 5 and 6 is tested by the pressure on the other side, the damage by the coal fire, and gives away. E Deck starts to flood, and Scotland Road makes the Titanic stop lurching to starboard, and immediately after, she is much more heavily lurching to port. The news that Titanic is sinking reaches Cape Race and the U.S. Half the world is now listening to Titanic. The Grand Staircase landing on E Deck starts flooding.
1:05 A.M. Lifeboat No. 1, with a capacity of 40, has only 12 aboard.
1:10 A.M. Second Officer Lightoller lowers lifeboat No. 6 with 28 people aboard.
1:15 A.M. Titanic lurches 1 or 2 degrees to port, the deck tilting.
1:20 A.M. Lifeboat 16 is lowered with 40 people on board.
1.25 A.M. Fifth Officer Harold Lowe brandishes his gun to deter men from rushing boat No. 14; it finally gets away with 58 people aboard. The First Class Dining Saloon starts taking in water.
1.30 A.M. No. 9 is lowered, this time with 56 people aboard. Lifeboat 12 is lowered away.
1:35 A.M. First Officer Murdoch gets lifeboat No. 11 away with over 70 people aboard.
1.40 A.M. Sixth Officer James Moody lowers boat No. 13 with 65 people aboard. The final distress rocket is fired. Thomas Andrews is seen standing in the first-class smoking room staring at a painting, "Plymouth Harbour", above the fireplace, his lifejacket lying on a nearby table. There were testimonies of sightings of Andrews after that moment. It appears that Andrews stayed in the smoking room for some time to gather his thoughts, then he continued assisting with the evacuation. The mystery ship (Californian) turns away or is no longer visible.
1.41 A.M. Lifeboat No. 15 is lowered, this time with 65 people aboard. Under the rush to escape, boat No. 13 is almost crushed when it is washed under the descending boat No. 15.
1:45 A.M. Lifeboat No. 2 is lowered with 25 people aboard.
1:50 A.M. Lifeboats 10 & 4 with 35 and 30 people aboard respectively, leave the ship.
2 A.M.
2:00 A.M. collapsible boat C is two-thirds full when a group of passengers try to storm it, somebody (maybe Chief Purser Hugh McElroy or Chief Officer Wilde) fires his pistol twice skywards to try to attain some attention. Bruce Ismay, White Star director, climbs aboard the boat as it is lowered with 44 people aboard, an action that will bring vilification later. Thomas Andrews is seen back on the boat deck. The crowd has begun to stir, but there are still women reluctant to leave the ship. To be heard and to draw attention to himself, Andrews waves his arms and announces to them in a loud voice. Another reported sighting was of Andrews frantically throwing deck chairs into the ocean for passengers to use as floating devices. The water reaches the A-deck Promenade.
2.05 A.M. Captain Smith goes to the wireless cabin and releases Phillips and Bride. Phillips continues to work while Bride gathers their papers before they leave. The water reaches the rim of the bridge rail.
2:05 A.M. Collapsible D, with 22 women and children is lowered, First Officer Lightoller draws his revolver to keep the men from rushing the boat. Passengers Hugh Woolner and Mauritz Hakan Bjornstrom-Steffanson make a jump for it, taking places 23 and 24 of the 47 available.
2.10 A.M. Steward Edward Brown saw the captain approach with a megaphone in his hand. He heard him say "Well boys, do your best for the women and children, and look out for yourselves." He saw the Captain walk onto the bridge alone; This was the last reliable sighting of Smith. Cecil Fitzpatrick reported seeing Captain Smith on the bridge, talking to Andrews. He also saw Andrews leave the ship at the last minute.
2.13 A.M. Crewmen struggle to free Collapsible B and A on the roof of the officer's quarters. They eventually float off the ship, overturned, and later saves more than a dozen men from the freezing water who balance and cling to its curved hull in the ice bound Atlantic, Captain Smith is last seen in the bridge, the water up to his waist, his hands on the wheel. Philadelphia banker Robert W. Daniel describes it. "I saw Captain Smith in the bridge. My eyes seemingly clung to him. The deck from which I had leapt was immersed. The water had risen slowly, and was now to the floor of the bridge. Then it was to Captain Smith's waist. I saw him no more. He died a hero." Just by then, the water comes settling over the boat deck, the bridge quickly goes under and the boats float away.
2:15 A.M. The propellers now come out to the waters, the stern starts rising. In three minutes it reaches an angle of 23 degrees.
2:17 A.M. Many people are washed of the deck and fight to get into the collapsibles, but some occupants push them back. Meanwhile, water reached funnel no #1, and its cords snap, causing it to fall on some swimmers. The grand staircase is flooded to the clock and a massive wave crashes through the iron and glass dome. 
2:18 A.M. The rapid move of the water now reaches Funnel 2, but it doesn't fall yet. The stern reaches up to 23 degrees. Just half of the ship is out of the water. An increasing roar is heard by those in the boats, as everything movable in the ship breaks loose and crashes forward against walls and bulkheads. Some even fall to the submerged part. The ships lights until now have been kept on only by the efforts of those heroic engineers, suddenly go out, flash once more and are then extinguished for good. Shortly after that, the pressure and gravity on the stern is too much to handle. The Titanic band stops playing.
So it breaks off from the top to the keel, where the break-up stops. The double bottom is all what is holding Titanic together. The stern falls almost back level.
2:19 A.M. The stern rapidly floods with water now, and the submerging front section pulls her via the keel back in the air, untill she almost goes straight up. As the front section is sunk, the stern floods, and rises in the air quickly till she reaches 89 degrees. The bow finally gets entirely loose, and goes down to the bottom.
2:20 A.M. Titanic's stern holds still for half a minute, right-up, but then goes down and takes 1503 lives along, some still inside it's body. Others die in the icy water. The ship is now officially lost. The stern section implodes and goes into a spiral dive, ripping itself apart as it falls.
2:24 A.M. After a smooth journey of 3.9 kilometres (2.4 mi) down, the front section hits the bottom of the ocean.
2:27 A.M. After a bumpy ride of 3.9 kilometres (2.4 mi) down, the stern section hits the bottom of the ocean.
Rest of day
3:30 A.M. The Carpathia fires a rocket.
4:10 A.M. The survivors of Lifeboat 2 are the first to be picked up by the Carpathia.
5:30 A.M. The Frankfort confirms to Evans that the Titanic is lost. Finally, the Californian steams to the disaster zone.
8:30 A.M. The survivors of Lifeboat 12 are the last to be picked up by the Carpathia. Lightoller is the very final to come on board. The Californian passes the Carpathia and then searches the disaster site for survivors one last time.
8:50 A.M. The Carpathia heads for New York with all survivors of the disaster. Ismay sends a wireless to the White Star office in New York that the Titanic is gone.
April
Wedneday, April 17th The Mackay-Bennett is chartered by the White Star Line and departs to the disaster zone.with coffins and ice. The crew has the task to recover bodies.
Thursday, April 18th 9:00 P.M. The Carpathia arrives in New York. She first ditches the lifeboats before disembarking the survivors at Peer 54.
Friday, April 19th The US Titanic Inquiry begins.
Monday, April 22nd The White Star Line sends the Minia to the disaster zone to pick up bodies.
Wednesday, April 24th When the Olympic is about to leave Southampton on a new voyage, the Engineering crew goes on strike. They know that there aren't enough lifeboats for everyone on board and 285 firemen desert. The voyage is cancelled.
May
May 2nd The British Titanic Inquiry begins.
May 6th The White Star Line sends out the Montmagny to the disaster zone to recover bodies.
May 15th The White Star Line sends the Algerina to the disaster zone to recover bodies, but they only find one.
May 25th The US Titanic Inquiry ends. 82 survivors have been questioned.
Post-May 1912
July 2nd, 1912 The British Titanic Inquiry ends.
April 1913 The International Ice Patrol is born to guard the Nord Artlantic routes for icebergs.
May 7th, 1915 Titanic's main rival, the RMS Lusitania, goes down and takes 1100 souls, 128 American, with her to the bottom of the Irish Sea, and the number of survivors is exactly the same as on Titanic. She was torpedoed by a German submarine U-20 and only lasted 18 minutes after that.
November 9th, 1915 The Californian, the ship which was close to Titanic when she sank, is sunk in the Aegean Sea by a German Navy U-boat.
1916 Titanic, still on the bottom of the Atlantic, loses her other sister, the new Britannic. It struck a mine and sank in just 55 minutes, whereas Titanic took 2 hours and 40 minutes. The Britannic had watertight bulkheads up to B-deck. And she was a hospitalship by then. Still, only 30 got killed due to enough lifeboats. The only victims were caused by the propellers, who sucked in two lifeboats.
July 17th, 1918 The Carpathia is sunk by an Imperial German Navy U-boat. It killed 5 people.
November 15th, 1929 Launch of the Titanic-inspired film Atlantic .
1935 The Olympic, after a long service, is demolished at a scrapeyard.
1953 Launch of the unfamiliar film Titanic by 20th Century Fox.
1955 Revival of interest in Titanic. A book called "A Night to Remember" comes out. It shows the sinking wrong, but still many people love it.
July 3rd, 1958 The book A Night to Remember is made into a movie, still considered the best Titanic movie ever and the most historically correct ever.
1979 Arrival of the unfamiliar TV film S.O.S. Titanic.
1980 Arrival of the unfamiliar film Raise the Titanic.
May 25th, 1983 Sid Daniels dies. He was the last living crewmember of the RMS Titanic.
September 1st, 1985 Robert Ballard locates the position of the wreck, broken in two sections. After many years of people who searched and tried to recover it, Titanic is found!
1996 Arrival of the unfamiliar TV film Titanic.
1997 James Cameron's ultralong Titanic film finally goes in production. It's one of the best films with many historical facts besides fictional characters and shows the sinking not quite accurately in way, time and people.
May 31st, 2009 Millvina Dean dies. She was the last living survivor of the sinking of the RMS Titanic.