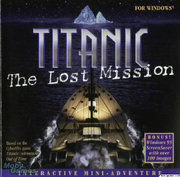 Titanic: The Lost Mission
is the demo version of the award winning computer game
Titanic: Adventure Out of Time
. You're a secret agent exploring abroad the RMS
Titanic
.
In this fully playable mini-adventure - not included in the full version of the game. You test your skills as a British secret agent and explore a virtual recreation of the RMS Titanic to uncover a plot that could spell the end of the White Star Lines most famous vessel. Match wits with the era's aristocrats and the ship's crew in an attempt to uncover vital information.
This disk was built using the same Dreamfactory technology and historically accurate 3D models as the award-winning Titanic: Adventure Out of Time from CyberFlix. It contains portions of the virtual Titanic-ready for you to explore-as well as several of the characters contained in the full version. But this unique, self-contained episode is only available on this disk.
Disk Features:
Edit
Interactive mini-adventure
Gallery of more than 40 screenshots
Game movie trailer
WindowsTM compatible Screensaver (100+ images)
Features:
Edit
Board the ship with easy-to-navagate, fully explorable 3D environments with fluid 360 movement
Suspense-thriller with dramatic and historical themes
Characters remember your decisions and act accordingly
Originally soundtrack and ambient effects in 3D stereo
Simple, clean game interface
Easy, quick startup
System Requirements:
Edit
Windows95, Windows3.1 or WindowsNT 3.5.1 486/66 or faster processor 100% Windows compatible sound card Double-speed or speed or faster CD-ROM drive Super VGA monitor 12 MB RAM
For More Information:
Edit
Ad blocker interference detected!
Wikia is a free-to-use site that makes money from advertising. We have a modified experience for viewers using ad blockers

Wikia is not accessible if you've made further modifications. Remove the custom ad blocker rule(s) and the page will load as expected.