Titanic Museum Attraction
is a permanent two story museum shaped like the
Titanic
herself. Located in Branson, Missouri, it was built half-scale to the original. Located on Country Highway 76, it holds 400 artifacts in twenty galleries from the
wreck of the RMS Titanic
.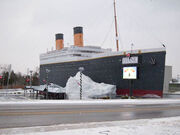 The structure is anchored in water to create the illusion of Titanic at sea, and the 90-minute, self-guided tour is designed to give guests the sensation of being an original passenger on Titanic's 1912 maiden voyage.
As the guests step through the artificial iceberg into the world of the Titanic, they are given a passenger boarding ticket. On this ticket is the name of an actual Titanic passenger and the class they were traveling. Guests will learn the individual stories & in the Titanic Memorial Room they will find out whether their ticketed passenger survived or perished.
The museum opened in 2006.
External links
Edit
Ad blocker interference detected!
Wikia is a free-to-use site that makes money from advertising. We have a modified experience for viewers using ad blockers

Wikia is not accessible if you've made further modifications. Remove the custom ad blocker rule(s) and the page will load as expected.