Welcome to Titanic Wiki, the wiki about everything related to the RMS Titanic.


Wanna help? Go to a random page, find some stubs who can really use your help, or make a new page! And don't be afraid to ask one of our Officers to help you.

Reach more than 5000 Articles: 17.7% complete
| | | | | |
| --- | --- | --- | --- | --- |
| The RMS Titanic was a passenger liner as the second of the Olympic-Class with her sisters Olympic & Gigantic. After her construction from 1909 to 1912, she was the largest ship in the world. She had a double bottom and 15 watertight bulkheads, and was called 'practically unsinkable'. On 10 April 1912, She set sail on her maiden voyage. | | On 14 April, 1912, at 11:40 P.M., the RMS Titanic struck an iceberg. Two hours and forty minutes later, she was gone beneath the waves. Of the 2208 passengers and crew, 1496 died. The sinking of the Titanic has inspired many people ever since. | | The wreck of the RMS Titanic is located about 370 miles (600 km) south-southeast of the coast of Newfoundland, lying at a depth of about 12,500 feet (3,800 m). Until 1 September 1985, the location of the wreck was unknown. The wreck lies in two main pieces about a third of a mile (0.6 km) apart. |

Titanic Wiki is the first and largest wiki about the RMS Titanic, founded on 25 September, 2006. This wiki's format also allows anyone to create or edit any article, so we can all work together to create a comprehensive database for fans of the Titanic.
Right now, we have reached a size of 886 articles with 25,690 edits, and has 15 active users. Topics covered include everything related to the Titanic, also including the 1997 Titanic film by James Cameron.

FEATURED ARTICLE: Lifeboat launching sequence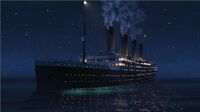 There has always been much discussion about which lifeboat was launched when and what the order was. Lifeboat 7 was the first one to leave, but at 12:45 A.M.? And was boat 10 launched before or after boat 12? And did Captain Smith launch boat 1 or 2?
Finally, after extensive research of Bill Wormstedt, Tad Fitch and George Behe helped by Sam Halpern and J. Kent Layton, the lifeboat launching sequence can finally be unraveled.
Read More...
USEFUL PAGES
| | | |
| --- | --- | --- |
| THE TITANIC | PASSENGERS AND CREW | MEDIA RELATED |


Loading RSS data...
Loading RSS data...