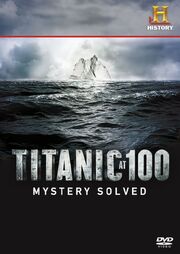 Titanic at 100: Mystery Solved
is a documentary from History Channel. It aired on April 15th 2012, on the
100th anniversary of the sinking
.
The researchers in the documentary try to answer a 100-year old question: did Titanic have a fatal flaw? They use a complete map of the wreck site made during the 2010 expedition to investigate.
The documentary recycles footage from A Night to Remember and a brand-new animation.
Ad blocker interference detected!
Wikia is a free-to-use site that makes money from advertising. We have a modified experience for viewers using ad blockers

Wikia is not accessible if you've made further modifications. Remove the custom ad blocker rule(s) and the page will load as expected.