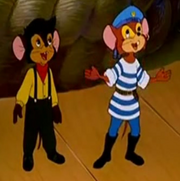 Top Conners and Ronny
are the two mice from the 1999 animated
Titanic
film,
The Legend of the Titanic
.
Plot
Conners is first seen as an old grand father mouse telling the story of the R.M.S. Titanic to his grandchildren through flashback. Then he is then seen as a young mouse when the the film flashbacks to the time of the Titanic. Ronny is the other mouse that's Conners' brother in law. He is good at soccer and he has a sister named Stella that Conners marries at the end of the film. They become Elizabeth's friends that help her during the whole film. They were the ones that brought her and Don Juan together.
In The Legend of the Titanic's sequel, In Search of the Titanic. In the sequel they get joined along with a group of pirate rats and let the king of Atlantis know about their plan to take over the world, after escaping Atlantis. When they make their plan fail they are with Elizabeth, Don Juan and his dog Smiley on the Titanic, rebuilt with Atlantean tech, and brought back to the surface, on a forgotten island where they live happily ever after.