No Official Name
This article has no official name whatsoever. Its current name is tentative.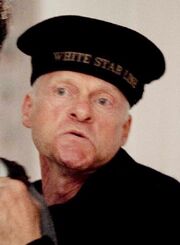 Unnamed seaman 2
was a fictional seaman of the RMS
Titanic
who appeared in the
2012 Miniseries
. He was portrayed by stunt performer
György Kívés
in an uncredited appearance.
Appearance
Edit
The Seaman was 5′ 8″ (1.74 m) tall, white male. He had short, gray-white hair and gray eyes. During his appearances on the show, he wore a standard blue seaman suit.
Biography
Edit
He appeared when Sixth Officer Moody came to take a look at the Third Class passengers. He and another unnamed seaman joined Moody down and helped the Third Class stewards holding passengers back. Steward Turnbull told Moody that the Italian waiters from Gatti's Restaurant were "safely under lock and key", the seamen had locked them up in a storage cupboard.
Suddenly, fireman Mario Sandrini appeared on the other side. Steward Turnbull opened the gate and dragged Sandrini in, all passengers escaped while Sandrini was carried away by the two seamen. They locked him up with the waiters. [1]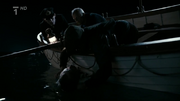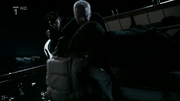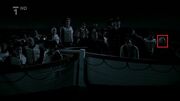 After having completed the order of locking away Mario Sandrini, the seaman boards a lifeboat and escapes the sinking ship. He ends up in the pontoon of
Fifth Officer Lowe
, and Lowe takes the seaman and
Stoker Lyons
in
Lifeboat 14
to return to the wreck site and pick up survivors. When they find the barely-living
Earl of Manton
, Lyons & this seaman drag him into the boat.
[2]
Ad blocker interference detected!
Wikia is a free-to-use site that makes money from advertising. We have a modified experience for viewers using ad blockers

Wikia is not accessible if you've made further modifications. Remove the custom ad blocker rule(s) and the page will load as expected.