Please do NOT post in the archives. They are ARCHIVES, not actual talk pages. Thanks!
Happy Birthday for tomorrow! :-)
Lordgrantham1920 (talk) 11:06, September 28, 2012 (UTC)
My Heart Will Go On
Edit
Serisuoly, it what it says on Wikipedia, it not Jack seeing Rose again, it is just a song.
Hey! White Fang I will be with you forever, matey! 08:10, June 12, 2013 (UTC)
thanks!::))~~ Majestic - The Magic-Stick  ~ White Star Line ~ 14:30, August 10, 2013 (UTC)
This wiki
Edit
Hello, I have been a fan of the Titanic for a long time and I recently discovered this wiki, and I'm very interested in it. Unfortunately I've noticed that there aren't many users (while this wiki has so much potential) and many pages need clean up. Besides the pages I also think the wiki needs clean up. I've looked at the MediaWiki, Main Page and when the background has been added, and those things haven't been changed for more than a year.
I do have a few things in mind (I've already made a wordmark and background) and I was wondering if you might want to make me admin. I know I haven't been here for long, but I have good intentions and I'm admin to several other wiki's too. I hope you give me a chance and we can make this wiki even better than it already is.
UltravoX (talk) 15:34, October 23, 2013 (UTC)
Yes, timezones can be quite annoying when you want to meet each other on something like the chat. Saturday sounds good, but unfortunately I have the nightshift this saturday, so I'm not sure when I'll be around.
Also, I think we should give the film characters and the real passengers different categories, like "Survivors" "First Class Passengers", maybe we can change that to something like "Survivors in film" and "First class passengers in film"? UltravoX (talk) 10:26, October 29, 2013 (UTC)
Apparantly it's very hard for us to find a date to talk on chat. At this moment I can't get on the wiki very often because of work and school (that's why I haven't edited the last few days). This week is busy till tuesday, but after that I'm sure I have time. I'll message you when I can come online next week. Have a nice week and talk to you later! UltravoX (talk) 16:06, November 8, 2013 (UTC)
I'm sorry for being a bit inactive here and not messaging you before for chat. I hope you understand that I'm very busy right now, I don't have much time for wiki between school and work. I do want to share with you that I went to Titanic: The Artifact Exhibition yesterday, and it was all kinds of awesome! I hope you have a nice day and talk to you later. UltravoX (talk) 14:36, November 24, 2013 (UTC)
ps: can you unlock the main page so I can make a few changes to it?
Main page
Edit
Hey, thanks for unlocking the main page. I gave it an update, I hope you like it this way. Have a good day! UltravoX (talk) 12:04, December 1, 2013 (UTC)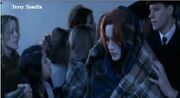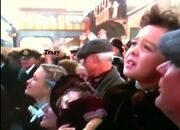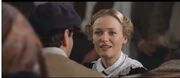 Hello UltravoX,
There were two Helga's, one with blue eyes and one, brown eyes.  The brown eyed Helga was Tessy Tonella.  Tessy shot almost all the same scenes as Camilla but at the same time, they were using Tessy in other scenes as well including many 1st class scenes.  Since Tessy became too recognizable in many other scenes, so it was decided to use Camilla in all the close-up and speaking parts whereas Tessy was used in most of the other scenes.  The 3rd class scene where Helga is sitting on the bench talking with Fabrizio is Camilla but when the dancing starts, that is Tessy with Fabrizio on the dance floor.  Tessy was with Fabrizio in the final dream scene as well.  Tessy was also in the lifeboat with Kathy Bates as well as many other scenes throughout the move including on the rescue ship.  Ms Tonella has her orginal Helga costume and film reel of all her scenes from the movie.  Outside of asking Mr. Cameron or retrieving payroll records, the only way to see the different Helga's is to go through the movie again and look closely at the details of each Helga.  One obvious difference is the ears and eye color.  I believe in giving credit where credit is due.  Thank you. Dxgol1 (talk) 21:15, January 2, 2014 (UTC)
Smith and Andrews
Edit
Can you unblock the pages of Smith and Andrews? They are filled with errors. Someone's making up shit about how these men died, and that pisses the hell out of me. The TRUTH is that nobody actually knows how Edward Smith and Tommie Andrews died. Both of those men are my heroes--and I think it's disgusting for anyone to turn the last moments of these men's like into a goddamn soap opera.
Murdoch and Moody
Edit
Also, the story of Bride seeing Murdoch and Moody is completley fictiocal. Harold Bride said no such thing at either Inquiry -- every one of his 1912 accounts specifies that he was on the opposite side of the ship from Murdoch and Moody when he was washed overboard. Aside from the fact that Harold Bride was on the opposite side of the ship from Murdoch and Moody when the bridge submerged, the fact that Bride did not know any of Titanic's officers in 1912 proves the above claim to be spurious.
Hi,
About a month ago, I started contributing to this wiki. I immediately noticed that many pages were quite messed up, and there were several categories for identical items, like 'Engineering Crew' & 'Engineering crew'. I cleaned up the wiki as well as possible, categorizing almost all pages, adding lots of links and, most importantly, information.
I also think the Titanic Wiki should be limited to the ship and related, and not talking about the 1997 movie by James Cameron. There is another wiki for that: James Cameron's Titanic Wiki. I removed all content from the pages on this wiki handling about that movie, and replaced them with redirects to James Cameron's Titanic Wiki.
Unfortunately I can't finish this cleanup because I have to be an admin to delete the unused pages & categories. I politely ask for admin rights, this way I can edit the main page and fix the links to unused categories. I tried to request adoption, which was possible because no admin had contributed to the wiki in 8 months, but I wasn't given the rights.
I know a lot about the Titanic, more than enough to write a book about it: Predicting the Titanic. Now available for free on Wattpad and Fictionpress. I would like to share all this knowledge on a successful Wikia, but I do need to be an admin to do this. Currently, this Wikia has way less pages than James Cameron's Titanic Wiki, which I find quite embarrassing and want to change. Let's do this!
Chris358 (Integrate, Mechtavius Destroyer!) 18:34, February 12, 2015 (UTC)
Hello. I've started adding the copyright templates to the images and so far a few now have the copyright message. The copyright message now appears inn the "about" tab of the image. Is that where it is supposed to go? I've just been going through bthe image gallery of the ones you would like me to add copyright to and just posting the
| | |
| --- | --- |
| | This image is a rendering of the copyrighted upcoming game Titanic:Honor and Glory. It will be used in a way that qualifies as fair use under US copyright law. |
when editing the page. Is this what you want me to do? If I'm doing it wrong let me know. I'm not exactly tech savvy. This is the first wikia I've joined and don't know a lot about editing and would like to contribute to this wiki since I am a huge fan of Titanic. Thank you
Titanicfanatic4151912Titanicfanatic4151912 (talk) 14:39, January 29, 2016 (UTC)
P.S. Does this also include the videos from the 1997 Movie Titanic?
Hello. I have another question about the copyright images. The Four Funnels ones I think are all done. Im not sure if there are more or if I have done them all. But it looks like the ones with the honor and glory logo are all finished. If thee are any left that I missed or still need to do please let me know. And let me know if I have done the editing right. It looks ok but I'm not 100% sure. Thanks
Titanicfanatic4151912Titanicfanatic4151912 (talk) 14:39, January 29, 2016 (UTC)