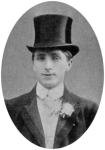 W. Theodore Ronald Brailey (October 25th, 1887 - April 15th, 1912) was in the 2nd class Orchestra. Joining the RMS Titanic in Southampton, he used Ticket 250654. Theodore Brailey was only 24 when he died on the Titanic. His body, if recovered, was never identified.
He could play piano, cello and flute. What by far is the greatest question about him is what he played along with Percy Taylor once on the open deck. 
Ad blocker interference detected!
Wikia is a free-to-use site that makes money from advertising. We have a modified experience for viewers using ad blockers

Wikia is not accessible if you've made further modifications. Remove the custom ad blocker rule(s) and the page will load as expected.