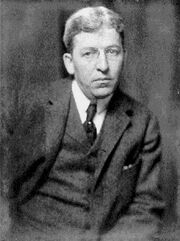 Walter Donald Douglas (April 21st, 1861 - April 15th, 1912) was a First Class passenger of the Titanic. He died in the sinking.
He was born in Iowa on April 21st, 1861.
With his brother George, Douglas had founded the family starch works in his native Cedar Rapids that later became Penick & Ford. Their father, George, had started Quaker Oats.
Described as a Captain of Industry, Walter Douglas had amassed a fortune of at least $4 million in various Cedar Rapids industries and branched out into the linseed oil business in Minneapolis. With his new wife, Mahala, he'd built a mansion on bluffs overlooking Lake Minnetonka that was said to be a copy of a French palace. Douglas retired on Jan. 1st, 1912; and the couple took off on a three-month tour of Europe to find furnishings for their palatial retreat.
A resident of Cedar Rapids, Iowa and Deephaven, MN, Douglas, now 50, boarded the Titanic at Cherbourg with his wife Mahala Douglas and their maid Berthe LeRoy. Travelling as First Class passengers, they occupied cabin C-86.
According to later reports Walter Douglas, dressed in his finest, helped lower the last lifeboat of survivors off the Titanic. It was reported that he refused to leave the ship while others remained, saying it would make him 'less than a man.'
Mr Douglas died in the sinking. His body was later recovered by the cable ship CS Mackay-Bennett (#62).
N0. 62. - MALE. - ESTIMATED AGE, 55. - HAIR, GREY.

CLOTHING - Evening dress, with "W. D. D." on shirt.

EFFECTS - Gold watch; chain; sov. Case with "WDD"; gold cigarette case "WDD"; five gold studs; wedding ring on finger engraved "May 19th, 84"; pocket letter case with $551.00, and 5 pound note; cards.

FIRST CLASS.

NAME-WALTER D. DOUGLAS.

Douglas's body was brought back to his hometown of Cedar Rapids, where he is buried alongside his wife in the Douglas family mausoleum at Oak Hill Cemetery.