Wilfred Cyril Foley was a Third Class steward of the Titanic. He survived the sinking.
Winifred was the son of Michael Foley (b. 1862), a blacksmith, and Sarah Tanner (née Daley (?), b. 1859), both Swansea-natives who had married in 1889. His mother Sarah had at least three children, Ellen (b. 1881), Lottie (b. 1883) and William (b. 1886) from a previous relationship with William Tanner (? died 1888) and he had one direct sibling, Winifred (b. 1892).
When Wilfred first appears on the 1891 census he and his family were living at 10 Fisher Street, Swansea. He was listed at the same address by the time of the 1901 census but his parents were absent, he perhaps being cared for solely by his elder step-sisters whilst his parents were elsewhere working.
By the time of the 1911 census Wilfred and his family have uprooted from Wales and are now living in 15 Andersons Road, Chapel, Southampton. His father is now described as a dredging master and Wilfred as a seafarer in the merchant service.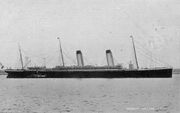 When he signed-on to the Titanic, on 6 April 1912, Wilfred gave his address as 15 Monson's Road, Chapel. His last ship had been the Oceanic. As a third class steward he received monthly wages of £3, 15s.
Foley was rescued, probably in lifeboat 13.
Wilfred returned to Britain after the disaster. His family seem to have moved to Woolwich. Wilfred was enlisted into the Army but was given a medical discharge in November 1915 on account of tuberculosis. He is believed to have died in Lewisham, London, England in mid-1916.